Neil Patrick Harris Spills on 'Genius Junior' & 'A Series of Unfortunate Events'
Neil Patrick Harris has been known to juggle on occasion, so juggling jobs should come easy to the Renaissance man, right? On the new quiz show Genius Junior, where brainiac kids test their knowledge in a quest to win up to $400,000, he wears many hats.
"As the MC, I need to keep the show moving. As the producer, I need to ensure that the show looks good. And I am kind of the uncle to the kids too," he says. Also on his plate: He's back as the devious Count Olaf in the black comedy/fantasy A Series of Unfortunate Events, which returns to Netflix March 30. We quizzed Harris on what we can expect from the two very different series.
See Also
After making us laugh in sitcoms and hosting, well, everything, how will NPH do with some brainy kids?
How does Genius Junior work?
Each episode, there are two teams of three kids who are self-professed super-smarties. They face multiple tests using different parts of their brains: math, spelling backward, geography and memorization recall. It's remarkable what they can do.
You're a parent to 7-year-old twins. How did that impact your hosting style?
I felt very protective of the contestants' experience. These aren't kid actors who have signed up to be on television. They're people in the real world who are excelling in school. While there are winners and losers, you're still rooting for them and amazed by what they do every time they get up and answer a question.
See Also
The pics also show a few new members of the cast for the new season, which launches in Spring 2018.
You've hosted the Tonys, Emmys and Oscars. What was your biggest challenge here?
Because the clock is ticking down, I spoke very fast when asking the questions, because you want to make sure everyone has the opportunity to answer as many questions as they can.
What is Olaf up to in A Series of Unfortunate Events?
As he continues to fail in his quest to obtain this fortune, he's more desperate and manic about winning!
If your kids had to pick between the two shows, which would they watch first?
I suspect A Series of Unfortunate Events since it's less scholastic. [Laughs] They're in the first grade now, so they get enough school on the daily!
Genius Junior, Series Premiere, Sunday, March 18, 9/8c, NBC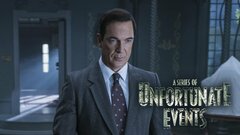 Powered by