'Ash vs. Evil Dead' Cast on How The Stakes Are Being Raised for the 'Ghostbeaters'
Blood is way more than just the viscous special effect of choice on Starz's Ash vs. Evil Dead. As fans have found out in the first two episodes of this season, it's also what has brought high-schooler Brandy Barr (Arielle Carver-O'Neill) into the demented family of Ash Williams (Bruce Campbell) and his band of foul-mouthed demon hunters.
"Brandy had one goal, and that was to get out of Elk Grove and leave these people she's never fit in with," explains Carver-O'Neill, whose character was revealed in the season opener to be the daughter of Ash with one of his many conquests from the past.
"Then she kind of gets pulled into the fight against evil against her wishes, finds out that she has this father…and that he is a one-armed demon-fighter. That is quite a lot to get used to!"
Not a fan of her recently discovered, skirt-chasing father (and with good reason), Carver-O'Neill admits that Brandy "slowly starts to realize that they have more in common than she thought."
Similarly, it becomes clear that this chip off of Ash's blockhead is a lot like his original badass recruit, Kelly (Dana DeLorenzo), whom many suspected might actually be his kin.
"When she first found out that Ash has a kid, Kelly was immediately put on babysitting duty and she was not having it," continues DeLorenzo. "But what's great is that as soon as Kelly spends a little time with Brandy, she sees how similar they are and takes her under her wing."
In addition to Brandy, the Ghostbeaters have also been joined by Lindsay Farris' hunky Dalton. The last remnant of the Knights of Sumeria, an ancient order of Deadite slayers, Dalton is "a wannabe warrior, I would say," laughs Farris. "All of the other members have gone off to become lawyers and dentists, but Dalton is that one guy who was like 'Nah, i think I'll focus on this and dedicate my life to it.'"
And now that he's been brought into Ash's inner circle by Kelly, "everything makes sense and he has a purpose now."
So does that purpose also include perhaps winning over the brunette powerhouse? Better hope not, otherwise we may have a very human battle between the new guy and Kelly's friend-zoned buddy Pablo (Ray Santiago). "Dalton shows up with the girl I have been pining for for many seasons, so I really don't like him," offers Santiago. "And I have learned a couple things from Ash. One is that you can't trust anybody."
"Pablo doesn't trust Dalton, Dalton doesn't trust Pablo and Kelly is telling them they're both pretty," echoes DeLorenzo, adding that there really is no place for any sort of personal attachment—familial or romantic—when you're facing down the undead.
"This is why she never let her feelings for Pablo come to fruition, because if you care about anything in their world, they immediately become a liability and raises the stakes."
In Sunday's new episode, the stakes are higher than ever for the team as Brandy catches Ash up to his eyeballs in gooey stuff after another Williams man makes an unexpected return, while Pablo, Kelly and Dalton are drawn to an old haunt to take on a new threat—one they won't see coming or even be able to beat.
"S**t is about to go down." warns Santiago. "And as sad as it's to say, somebody isn't going to make it."
Ash vs. Evil Dead, Sundays, 9/8c, Starz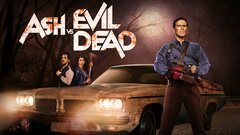 Powered by