'Ash vs. Evil Dead': Bruce Campbell Teases Ash's Biggest Challenge, Fatherhood
Daddy's home! Season 3 of Ash vs. Evil Dead has arrived with Bruce Campbell's horror-movie icon Ash Williams facing a fresh new hell: fatherhood.
"Ash gets put through a lot of stuff," teases Campbell of his unflappably sarcastic Deadite hunter, who discovers that he has a teenage daughter named Brandy (Arielle Carver-O'Neill) in the season opener. "This one does throw him for a bit of a loop."
And to think it all starts out so domesticated: When the show returns, Ash and his recently resurrected sidekick Pablo (Ray Santiago) have been enjoying some rare downtime as the owners of a hardware store/sex toy emporium. (They deserve a break, having recently saved Ash's hometown of Elk Grove from a demon assault.) Of course, because this is Evil Dead, a wicked new threat arises and targets what Ash quickly learns is his surprise spawn from a long-ago hookup.
So the chainsaw-handed papa bear, Pablo and their evil, ass-kicking pal Kelly (Dana DeLorenzo) reunite to take care of business. Meanwhile, the villainous incarnation of former ally Ruby (Lucy Lawless) has her sights set on bringing her own "baby" into the world.
Campbell notes that all the kiddie conflict plays into the season's overall theme: family. "Your family is the most important thing you have, and it takes some people a long time to figure that out," the actor explains. "But you start to see that this group does actually love each other."
Could that mean fans may finally see the softer side of Ashy Slashy? "We have some heart-y scenes," he confesses, before adding that the Hallmark moments will be few and far between. "They don't last long because these characters don't have the emotional capacity!"
Ash vs. Evil Dead, Season Premiere, Sunday, Feb. 25, 9/8c, Starz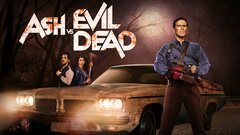 Powered by