'Good Girls,' 'Bachelor' Makes His Pick, 'UnReal' Just Getting Started
A selective critical checklist of notable Monday TV:
Good Girls (10/9c, NBC): Now what? That's the question that usually dogs any high-concept pilot, and the three ladies in criminal training—well played by Christina Hendricks, Retta and Mae Whitman—are in a real pickle in the wake of their grocery robbery. Store manager Boomer (David Hornsby), who's on to them, is quite the liability, and an annoying distraction as they plot more petty crimes to pay back the scary-lethal gang.
See Also
Mae Whitman, Retta, and Christina Hendricks are all about giving women a voice.
The Bachelor (8/7c, ABC): Geez, even most actual epic love stories don't go on at the length of this Bachelor finale. ABC is devoting three entire hours to Arie's final choice between Becca K. and Lauren B.—do they just use initials in a hopeless attempt to maintain some dignity? Both "contestants" meet Arie's family before the ultimate proposal. And don't be surprised if there are some thorns within that last rose.
Should you prefer the fictional (and actually entertaining) alternative, Lifetime's UnReal (10/9c) continues its new "Suitress" season with Serena (Caitlin FitzGerald) showing her poker face to her own gaggle of unwed studs, while a jealous Quinn (Constance Zimmer) makes a connection with one of Everlasting's bachelors. Which sounds like a terrible idea—for him, anyway.
See Also
Or could ABC trick us all?
Girlfriends (streaming on Acorn): The first-season finale of the delightful female buddy comedy takes these not-entirely-good girls on a road trip to Spain, so Linda (Phyllis Logan) can identify her late husband's body. This prompts yet another shocking confession and more life-changing complications that rally Gail (Miranda Richardson) and Sue (Zoe Wanamaker) to stand by their girlfriend. As Girlfriends ends, Acorn presents the four-episode second season of British dramedy Delicious, starring Dawn French and Emilia Fox as Gina and Sam, proprietors of a Cornwall hotel, each carrying on after the death of Leo (Iain Glen), the loves of their lives. Joining the cast: Franco Nero as Gina's estranged father.
See Also
From 'Supergirl' to 'Silicon Valley,' these friendships are some of the strongest and most undervalued on TV.
Inside Monday TV: For two nights, continuing on Tuesday, Turner Classic Movies features acclaimed films that deal with mental illness, starting with Joanne Woodward's Oscar-winning performance in 1957's The Three Faces of Eve (8/7c) as a woman with multiple personalities. Followed by Olivia de Havilland's harrowing experiences in a mental institution in 1948's The Snake Pit (10/9c). … Liv (Rose McIver) goes all Agatha Christie on The CW's iZombie (9/8c) when she eats the brains of a despised dowager and must figure out which of her unhappy servants is her murderer. … Investigation Discovery reopens a decades-old cold case in the two-night docuseries The Golden State Killer: It's Not Over (9/8c, concluding Tuesday), with forensic specialist Paul Holes leading a team of legal and criminal experts to analyze clues to the identity of California's most notorious unknown serial killer.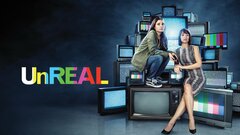 UnREAL
where to stream
Powered by