'Superstore' Preview: The Cloud 9 Team Debates the Dark Underbelly of Gaming (VIDEO)
By now, we're all used to those big release weekends, when highly-anticipated films, books or video games drop in stores, causing total pandemonium.
Thursday's all-new "Video Game Release" episode of Superstore—directed by show star America Ferrera—will explore this phenomenon when the Cloud 9 employees prepare for the launch of a popular game.
In an exclusive sneak peek clip, Dina (Lauren Ash) takes charge in the staff meeting, informing the team that "Barbarian's Gate 3" has arrived and a line of armor-clad customers has formed outside of the store. Amy (Ferrera) then asks to put a copy aside, revealing that she too is a gamer.
When questioned about her hobby, she doubles down on her fandom, rationalizing that video games are a great way to relieve stress. But as with any exchange between the Cloud 9 employees, things quickly go from somewhat normal to totally strange. Check out the clip below:
Superstore, Thursdays, 8/7c, NBC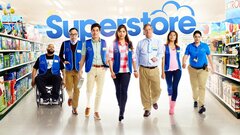 Powered by