How Did Kelly Clarkson Do on Her First Night as 'The Voice' Coach? (POLL)
On Monday night, The Voice Season 14 premiered on NBC with an all new coach: Kelly Clarkson.
In her debut, the original American Idol winner used her singing competition show experience to her advantage, convincing contestants to join her team for that very reason.
Joining existing Voice coaches Blake Shelton, Adam Levine, and Alicia Keys in the red chairs for blind auditions, she made quite the impression. The show also introduced a new feature—the block button—which allows one coach to prevent another from gaining a team member. "I feel like you all invented that because I'm coming," Clarkson noted, pointing out that the other coaches may have been intimidated by her.
Clarkson didn't directly refer to Idol, but she did stress to one of the contestants her strengths when it comes to competition. "I know Blake has won a lot and I'm the rookie, but I'm just saying, I have won a competition."
Overall it was a fun night of coach banter and inspiring contestant stories, building up an impressive start of the season. Clarkson's first appearance as a coach has received an enthusiastic response thus far—but would you expect anything less from gem like her?
See what viewers had to say about Clarkson's first night as a Voice coach below.
@kelly_clarkson on @NBCTheVoice is the GREATEST thing ever! Should have brought her on sooner!!! ❤️❤️❤️

— Brittany Nikol (@britnikol) February 27, 2018
@kelly_clarkson I was more excited to watch YOU than anyone else on the show! My husband and I were laughing and applauding all night! YOU BRING IT ON!!!!! WE LOVE YOU!!

— Angela Wilson (@govgirl49) February 27, 2018
I love you too @kelly_clarkson! pic.twitter.com/IbSZZafeg2

— Wynonna (@Wynonna) February 27, 2018
Y'all…@kelly_clarkson is one of the funniest humans. I'm literally falling more and more in love with her with every word she says 😂💖 #VoicePremiere

— Brooke Simpson 🦄 (@brookesimpson) February 27, 2018
So how do you think Clarkson did in the Season 14 premiere? Let us know in the poll below!
The Voice, Mondays and Tuesdays, 8/7c, NBC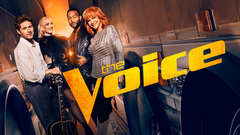 Powered by