'The Voice': New Coach Kelly Clarkson Says 'I Don't Want to Be a Judge…I Always Feel Sh**ty Afterwards'
Kelly Clarkson says she is "super stoked" to be joining Adam Levine, Blake Shelton and Alicia Keys as a coach for the upcoming Season 14 of The Voice (premiering Monday, Feb. 26, on NBC).
On Tuesday, an energetic Clarkson took the stage at the Television Critics Association winter press tour in Pasadena, along with Season 12 winner Chris Blue and executive producer Audrey Morrissey, and gushed about her excitement to be on the hit singing competition series.
"I still feel like the same kid that entered this industry. I still have the same sense of, like, awe about it, and the same excitement," Clarkson said.
See Also
The future coach weighs in on whether she'd trust her kids with Adam Levine, Blake Shelton, Jennifer Hudson or Miley Cyrus and other hot topics.
The former American Idol-turned-superstar has turned down numerous offers to join other shows, always knowing The Voice was ultimately the show for her. Clarkson actually knew about the show long before it even aired and thought it was brilliant to remove the "aesthetic appeal" and focus on raw talent. The timing, however, was initially never right.
"I love this show. And I've been trying to be a part of it. [But] I was knocked up for, like, three years. I couldn't work because my pregnancies are horrible," Clarkson revealed. "… I'm super stoked that it finally worked out and it was great timing for me as well. Because now it's like 'mommy off-time.'"
For Clarkson, it's the blinds that make the show—removing the looks of an individual and just focusing on talent—and she thinks the coaching aspect makes her a good fit.
See Also
Keys joins Adam Levine, Blake Shleton and Kelly Clarkson
"I think that's my favorite part, is that I get to be a coach, because I've been asked to be a judge on things, and I don't want to be a judge. I'm not really good at that. I always feel sh**ty afterwards if you have to say something to somebody and they don't receive it well," she shared. "…I don't think it's a big secret. There's no elephant in the room. I'll talk about everything. But I get judged on that all the time—aesthetics—even from whenever I started.
"And I love that this show is strictly from the start‑off — the people that are chosen to be on this show are chosen to be there because they're talented and they deserve it. I think that's why it's so successful."
The Voice Season 14 premieres Monday, Feb. 26, at 8/7c on NBC.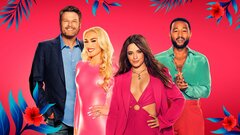 Powered by