'The Long Road Home': Nat Geo Series Concludes With Moving Finale, Companion Doc
National Geographic's Critic's Choice-nominated event series The Long Road Home concludes Tuesday night with a moving finale episode that sees the resolution of the dramatic rescue mission—and the ramifications of a war that's only just begun, both for the soldiers and their families and survivors.
In this exclusive clip for the series finale episode, "Always Dream of Me," Spc. Israel Garza (Jorge Diaz)—who, just eight hours before, had dreamed of returning home safely to his wife and their two kids—realizes that dream may not come true, but honors the efforts of his emotionally spent leader Robert Miltenberger (Jeremy Sisto).
"I think we're just all really proud to be a part of something that could keep those guys names alive—especially for Garza's sons," says E.J. Bonilla, who plays the ambushed platoon's leader Lt. Shane Aguero. "Because these sacrifices that these men and women make, the repercussions, they last for a lifetime. And they volunteered. They signed up and they gave everything they had for this country—and not only the soldiers that we're telling their stories here. There are lots of little boys and girls who are growing up without a parent because they've given the ultimate sacrifice.
"Even if this is not their father's story or their mother's story, it's a way of saying, 'We see you all and we know that after the funeral, after all this, you're bravely going through every day without your parent, for the rest of your life.'"
Following the series finale, dive deeper into the unforgettable stories of the real-life men and women who inspired the series in the companion documentary, Heroes of the Long Road Home With Martha Raddatz.
Featuring interviews and footage shot by Raddatz while covering the Black Sunday ambush and before and after she penned the book on which the series is based, the documentary pieces together the soldiers' stories as they try to make sense of the events of Black Sunday and do their best to adapt to life at home. In new footage, Martha also visits these heroes at fishing holes, on oil rigs and at home with their families to see if they've found peace at last.
The Long Road Home series finale, Tuesday, 10/9c, National Geographic
Heroes of The Long Road Home With Martha Raddatz, Tuesday, 11/10c, National Geographic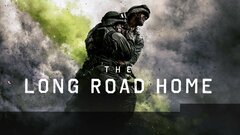 Powered by