'Lethal Weapon': Keesha Sharp on the Rift Between Roger and Trish
On Fox's hit crime drama Lethal Weapon, you can count on the good guys catching the bad guys, banter between Detective Martin Riggs (Clayne Crawford) and Detective Roger Murtaugh (Damon Wayans), and Scorsese (Johnathan Fernandez) sporting a cool pair of shades or a snazzy outfit.
But we can also always count on the solid, loving relationship between Murtaugh and his wife, Trish (Keesha Sharp). So was anyone else concerned in a big way when Trish had had enough of Roger making decisions about buying a motorcycle, and then, a new car without consulting her, and he ended up bunking with Riggs in his beachside trailer?
See Also
Curious how Morgan Jones will fit in with the 'FTWD' gang? We've got the first episodic pics!
The conflict between the two continues in Tuesday's episode, "The Odd Couple," and could get worse when Murtaugh suspects Trish may be in danger with some shady businessmen. However, given the state of their relationship, do you really think Trish is going to listen to what her husband has to say?
TV Insider grabbed some time with Sharp to find out what we're going to see this week and just how long fans should be worried about the rift between Trish and Roger.
I was surprised how much it hurt to see Trish and Roger in a bad place!
Keesha Sharp: It's realistic, right? You're not gonna always be in a good place, and for Trish, she's just very desperate. She wants her man to stay alive, and he doesn't seem to get it, so maybe if Trish is bold enough or desperate enough he'll listen to her and stop being so reckless.
Does she put any of this on Riggs? I mean, he's usually the reckless one, but Trish and Riggs are also pretty tight.
I don't see Trish being that way this time. She knows it has nothing to do with Riggs and that this really has to do with Roger wanting to feel young again, whatever that means for him. I don't think she blames him at all. I think this is all Roger.
See Also
Murtaugh's daughter will need some help from her detective dad.
I like how in this episode Trish really gets in the middle of the danger, which doesn't happen that often on the show.
You don't see it coming, but it's all going to intertwine in such a way. I was happy about that and excited to see that she was involved outside of the house. I like to see that there are times that there could be something that she is involved with that could be dangerous. I think [the writers] did a good job with that as well.
Trish has to do some quick thinking in this episode. Do you think some of that comes from Roger and his work or is it all Trish?
I think they've learned from each other. They've been together for so long, and you have to think that they talk about what they've gone through during the day. They talk about different crimes and how he got out of that and telling Trish all the stories.
Sometimes she doesn't want to hear it because it's so dangerous, but she's listening. But she also comes with a whole baggage of all these cases, so there are ways of learning how to deal with criminals, especially the ones that think they're so smart.
Do you ever get to keep any of the clothes that they put Trish in? As usual, you have some great outfits in this episode!
I can't keep them yet and I want to emphasize yet [laughs]. Genevieve, who's the costume designer, who's incredible, we work really close together to find what Trish would wear, especially this year, because it was a little different for her. She's doing corporate law, so it's not the same as criminal law, the style is different, but it's been a great collaboration.
Since the show has started, do you hear from cops' wives who kind of understand what Trish goes through?
Yes, especially on social media. The really beautiful thing about social media is, as an actor on a show like Lethal Weapon, you hear things from cops' wives. You hear things from lawyers who are saying to you, "You're representing us well." You hear some women who are saying, "You are being able to balance work, home, and life so well. I'm learning from you." There's just so much positive feedback on this character, which I'm really proud of to be able to play her.
When Trish quit her job last year, I got at least three social media tweets [from viewers] about how their mother quit their because she saw Trish do it. At first you want to be like, "Oh, I don't know." But it's telling that this show has really touched people in so many different ways because it has comedy, drama, action, and heart.
And it's really touching all different demographics, different age groups, and I'm proud of that. It's not that it's a black show, it's not a white show. It's a human show, and people are attracted to it for that reason. Trish is this wife and mother who's learning how to balance it all and makes mistakes. Running over Roger's bike was a mistake, but she did say "sorry."
Lethal Weapon, Tuesdays, 8/7c, Fox.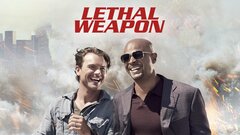 Powered by