'Lethal Weapon': Forget the Bad Guys, It's Really All About Love (VIDEO)
Valentine's Day may be months away, but for the cast of Fox's hit crime drama Lethal Weapon, it's all about love as they shoot the show's second season.
"Love is the motivation for every single one of our characters on our show," says Keesha Sharp (Trish Murtaugh) in the video where the rest of the cast, including Clayne Crawford (Martin Riggs), Jordana Brewster (Maureen Cahill), Kevin Rahm (Brooks Avery) and Johnathan Hernandez (Scorsese), talk about how the characters love each other even when it might make their on-screen alter-egos a little uncomfortable. (Yes, we're looking at you, Damon Wayans!)
Check out the exclusive video below and, of course, remember that the second season of Lethal Weapon kicks off September 26 in its new Tuesday night time slot:
Lethal Weapon Season 2 premiere, September 26, 8/7c, Fox.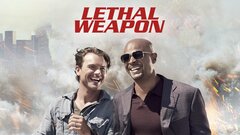 Powered by