The Murtaugh-Riggs Bromance Continues in 'Lethal Weapon' Season 2
There won't be time for margaritas. Season 2 of Lethal Weapon takes Murtaugh (Damon Wayans) to Mexico in his search for the MIA Riggs (Clayne Crawford), who is hell-bent on avenging his wife's death. "There are ramifications to what happens in Mexico that play out throughout the first couple of episodes," executive producer Matt Miller notes. Wayans and Crawford fill us in on the rest.
Murtaugh returns to L.A. to find a new boss (Michelle Hurd) at the LAPD. What's his history with her?
Damon Wayans: We were partners for like, two days. In Murtaugh's mind, she came onto him so he asked for a transfer and a new partner. Now she's the deputy chief so she has power over him. She's coming to make his life miserable. I'm not gonna tell you what actually happens, but Michelle is wonderful. Her energy is so refreshing. She frustrated with everything but she's so grounded.
And Riggs has fun with that, I'm sure, right?
Crawford: Well, yeah. Riggs really likes that. But Riggs can take the piss out of Murtaugh in that brotherly love kinda way. Look, the home run for us is fighting in each other's faces and then we hear a gunshot and we turn around, kick in the door at the right time and pull our weapons out at the same time. That's what you wanna see, right? We're trying to do all those things in season two.
Talk about Cahill (Jordana Brewster) and that relationship, because that definitely went through a lot last season.
Crawford: I think the design of the relationship is to be that Mulder and Scully kinda thing. We play the hell out of that. We put music over it, she throws a smile, and it's awesome. I don't think they're ever going to get together but if they do, it'd be one of those things at the end of the season. She's such a support system for Riggs, and Riggs has lots of devils on his shoulder. Cahill is the only angel, and she's constantly in his ear.
DEA agent Karen Palmer (Hilarie Burton) is back as well. Can we expect things to heat up again with her and Riggs?
Crawford: It's complicated. They're very similar individuals who are married to their work and always go balls to the wall. Hilarie is awesome. She's funny and we're definitely gonna bring her back. She has a life similar to mine; a great little family unit, her own little farm, and she's doing the whole "pioneer woman" thing so it's difficult to get her ass to La-La Land and get her on camera. Whenever we can, we do and it's wonderful.
And ultimately the show is really all about the Murtaugh–Riggs bromance.
Wayans: What Murtaugh wants is for this guy to say "I love you," but he's never gonna do it. But I know in my heart that he does.
Crawford: I'd jump in front of a bus for him!
Lethal Weapon, Season premiere, Sept. 26, 8/7c, Fox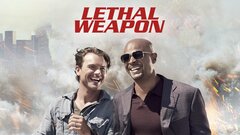 Powered by