'Lethal Weapon': Why Will Scorsese Be Seen In A 'New Light' This Week?
Wisecracking cops Riggs (Clayne Crawford) and Murtaugh (Damon Wayans) investigate a curious case of murder-by-fork on this week's Lethal Weapon but the crime sounds eerily familiar to medical examiner Scorsese's (Johnathan Fernandez) screenplay. "The crime is parallel to a mob movie he's writing," explains Fernandez. The script hits pretty close to home for family man Murtaugh, too. He reads the budding scribe's work to look for clues "and sees that he's the basis for one of the leads," Fernandez continues. "But he feels, 'You got me all wrong!'"
Also on tonight's Scorsese-centric episode: The movie-buff character's real name is spoken for the first time. "It's a fun reveal," promises executive producer Matt Miller, who says viewers get a more fleshed-out look at the fan favorite. "By allowing him to participate in the investigation, we're going to see him in a new light."
See Also
'It's madness, total madness,' teases 'Arrow' and 'Legends' EP Guggenheim of the epic crossover.
Scorsese's co-workers may seem him differently after this case. "They know that he's a writer and they know that he went to film school," Fernandez says, "but it didn't seem like they've ever really taken it seriously. So at one point Riggs (Clayne Crawford) even says, 'I thought that we were just making fun of him.' And I bring up the script and that's when Murtaugh gets to see it. It's really fun. And then there's a lot of fun moments that we have where I have studied Murtaugh so much that I finish his sentences."
Fernandez adds the timing is right for the Scorsese name reveal but admits, "my fantasy was to have the name revealed as I was dying in a shoot-out in Episode 100 or something like that. Obviously we can't take for granted how long we'll be on but that's something that people want to know so we might as well do it."
Also, like his Lethal Weapon character, the actor loves a good mobster flick. "What's funny about it is that the episode is a mob story and Johnathan Fernandez in real life is all about that stuff. I've seen all those movies like Goodfellas and Donnie Brasco so many times. When I first saw the title of the episode, I was like 'this is amazing!'"
Here's an exclusive clip from this week's episode when Scorsese shows the guys his script:
Lethal Weapon, Tuesday, Nov. 28, 8/7c, Fox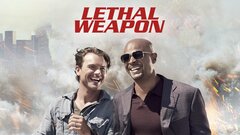 Powered by