'Grace and Frankie' Renewed for Season 5 as RuPaul Joins Cast
Jane Fonda and Lily Tomlin, both Emmy- and SAG-nominated for their respective title roles in Netflix's hit comedy series Grace and Frankie, will return for a fifth season in 2019, the streaming service announced Wednesday.
Joining the cast of the new season with a "guest star" billing is none other than RuPaul. The Emmy-winning Drag Race host will play Benjamin De Lay, described as a "formidable and quick-witted adversary who faces off with Grace and Frankie."
Season 4 of Grace and Frankie launched Jan. 19 on Netflix. The series follows the two women, whose lives are turned upside down when their husbands reveal they are gay and leave them for each other. Together with their ex-husbands and children, they discover the true definition of "family," with laughter, tears and plenty of mood enhancers along the way.
Along with Fonda and Tomlin (who are co-executive producers of the series, as well), the series also stars Martin Sheen and Sam Waterston, with Brooklyn Decker, June Diane Raphael, Ethan Embry and Baron Vaughn.
Grace and Frankie Season 5, coming in 2019 on Netflix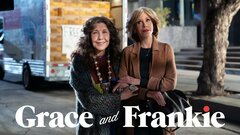 Powered by