'The Arrangement' Season 2 Preview: Will Megan Really Burn The Institute of the Higher Mind Down? (VIDEO)
Ah, the Hollywood dream…or is it a nightmare?
That's what Season 2 of E's drama The Arrangement looks to be when it returns March 11. The series features wannabe actress Megan Morrison (Christine Evangelista), who begins a relationship with Hollywood megastar Kyle West (Josh Henderson) and finds that things aren't always as they seem. The series also stars Michael Vartan, Lexa Doig and Carra Patterson.
A new second season trailer is dropping during NBC's coverage of the PyeongChang Olympics and shows a more empowered, more determined Megan, who went through reprogramming at the end of last season and, in the process, has a better understanding of Higher Mind, the self-help organization.
Will Megan bring the organization down and risk losing Kyle and the movie career she has always dreamed of? Whatever happens next, from the action in the trailer—set to a haunting version of the classic Tears for Fears song "Everybody Wants to Rule the World"— we can definitely expect the upcoming episodes to satisfy.
The Arrangement, Season 2 premiere, March 11, 9/8c, E!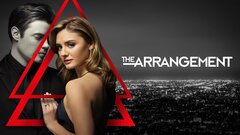 Powered by