'The Arrangement' Cast Previews an Even 'Darker' Season 2 (VIDEO)
Bet you didn't think things could get more intense than The Arrangement's first season—you thought wrong.
The E! scripted drama recently returned for Season 2, as aspiring actress Megan Morrison (Christine Evangelista) is still dealing with her complicated relationship with Hollywood hunk Kyle West (Josh Henderson).
See Also
Josh Henderson and Christina Evangelista star in E!'s sultry new Hollywood drama 'The Arrangement.'
"I was surprised. This season is a lot stronger, a lot darker, I think the characters are just in more control now," Evangelista tells us, as Henderson chimes in that the second season will top the first.
"They have a lot more to prove, so the stakes are higher this year," she adds.
Check out the full conversation below to find out more on what's to come in the weeks ahead:
The Arrangement, Sundays, 9/8c, E!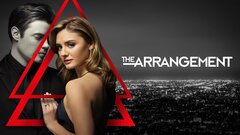 Powered by