'Fresh Off the Boat': Will Emery Get in TV Guide Magazine? (VIDEO)
There's nothing like getting your name in TV Guide Magazine, right?
Teenaged Emery (Forrest Wheeler) has been trying to get his letter to the editor in the iconic magazine for the longest time. And in Tuesday's episode of ABC's Fresh Off the Boat, his luck is about to change—just in time for the Chinese New Year.
Also in Tuesday's episode, viewers are blessed with the dance moves of Randall Park's Louis. Plus, it's a first for the long-running comedy when the Huangs play a game that only allows speaking in Mandarin/Chinese. In fact, half of the episode is spoken in the language with English subtitles!
But, back to Emery's dream to be in TV Guide Magazine (you know TV Insider is the sister site to the iconic magazine, right?). Check out the below clip to see who may have had a hand in helping that dream come true.
Fresh Off the Boat, Tuesdays, 8:30/7:30, ABC.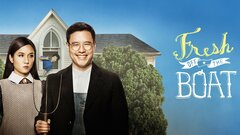 Powered by