'Champions': First Look at Promo Art for Mindy Kaling's New NBC Comedy
The recently released trailer of Mindy Kaling's new project Champions has us excited to see more, and NBC is giving us another glimpse, with exclusive key art from the comedy series. The show's poster reveals insight into who the main characters, played by Anders Holm (Workaholics), Andy Favreau (The Mick) and J.J. Totah (Glee), really are.
Take an exclusive look at the show's key art below:
Champions will follow Michael, the openly gay son of Mindy Kaling's recurring character Priya. One day, Priya brings Michael (Totah) to meet his father, Vince (Holm), who had no knowledge of his existence, so that Michael can pursue his acting dreams at a prestigious performing arts school in New York. When Priya leaves Michael to live with his new father and his father's roommate Matthew (Favreau), hilarity ensues.
Kaling will serve as a writer and executive producer for the half-hour comedy series, which premieres early in March, and which she co-created with Charlie Grandy, who has also written for and produced Kaling's previous two successful TV series, The Office and The Mindy Project.
Actress Fortune Feimster also comes over from The Mindy Project as one of the employees at the family-owned Brooklyn gym that Holm's character runs. Other cast members playing the "gym family" in Champions are Mouzam Makkar, Yassir Lester, Ginger Gonzaga and Robert Costanzo.
Champions, Premieres Thursday, March 8, 8:30/9:30c, NBC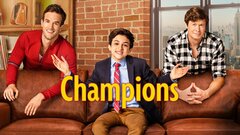 Powered by