'Altered Carbon' Star Joel Kinnaman on His Physically Challenging Role
Imagine a world where death doesn't have to be permanent: Once your body wears out, you can move into another one. That's the premise of Netflix's trippy new sci-fi drama Altered Carbon, an adaptation of Richard K. Morgan's 2002 novel.
In the premiere, Takeshi Kovacs, incarcerated for a murder he didn't commit and frozen for 250 years, wakes in a new "sleeve" (aka body). Kovacs (The Killing's Joel Kinnaman) barely has time to acclimate to his new reality before he's enlisted by wealthy Laurens Bancroft (James Purefoy) to find out who murdered the sleeve Bancroft previously inhabited. If Kovacs can solve the mystery, he gains his freedom. Kinnaman explains more about the series, which he says has "the tone of a noir."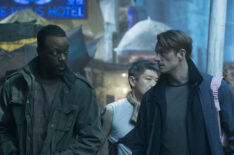 See Also
Immortality has deadly consequences.
Was it tough to wrap your head around the show's concept?
I'm a real sci-fi nerd. It really sparks my imagination. So to me, this role was a dream come true. If I could choose to watch something, Altered Carbon would be it.
Kovacs is understandably not thrilled with this new body—or world. What is his main objective?
It's finding a reason to live, because everyone that he knows and loves is gone. He has no purpose, so he has to invent one. Over the course of the series, the struggle for him becomes, What is more important: the life that you lived before or what's happening now with the people who are here?
The role is extremely physical. How difficult was that?
It's been very challenging. I've never prepared more physically for a part. I've got to take my shirt off all the time, so I've been training like a dog, almost two to five hours a day, for six months. I know birds that ate more than me. I've been eating kale salads with tears as the dressing!
Altered Carbon, Available Friday, Feb. 2, Netflix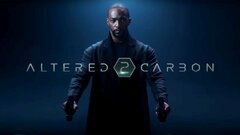 Powered by