'Schitt's Creek': Moira Rose's Ego Gets Her in Trouble
Everything's comin' up Rose—Moira Rose, that is. Since arriving in the backwater of Schitt's Creek with her newly impoverished family, the former soap opera star turned billionaire housewife turned 99 percenter, played by Catherine O'Hara, has managed to insinuate herself into the town's civic life. In Wednesday night's episode of the Pop comedy, Moira plans to perform a smashing revival of one of her many one-woman shows for a local fundraiser.
Yeah, what's more likely to happen is it will end up being a total Schitt show. "Her ego led the way," O'Hara explains. "[She was asked to perform] and her ego just said, 'Yes!' In her head, she's got tons of material. But right away you see that she's having trouble—and when she really starts working on it, she realizes she has nothing." Hey, as Mama Rose sang, Ya either got it or ya ain't!
Schitt's Creek, Wednesday, Feb. 7, 8/7c, Pop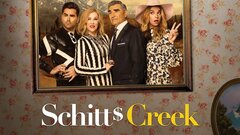 Powered by