What's Worth Watching: Are They Getting Out of Schitt's Creek?
Schitt's Creek, "Town for Sale" (Wednesday, May 6, 10/9c, Pop)
"We're getting out," Johnny Rose (Eugene Levy) gasps to his family in tonight's season one finale after sprinting back to their makeshift motel home, "We're finally getting out!"
If you've been keeping up with the Roses, you'd know that in some ways they've learned to adjust to life in Schitt's Creek, the backwoods town that Johnny originally bought as a gag gift for son David (Dan Levy) but where the family was then exiled to when they lost their fortune. They've made friends, had romantic entanglements, and worked community service hours. In other ways though, the Roses will just never fit into the small town lifestyle.
Johnny has found a buyer in the inappropriate joker Andy Roberts (Alan C. Peterson), but will his John Hancock make it to the dotted line? And how will David and his sister Alexis (Annie Murphy) take leaving the town they've grown to moderately tolerate? In the meantime, the episode ties up plenty of the season's loose ends with the crazy shenanigans we've come to love from the comedy.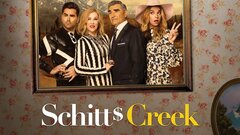 Powered by