'Schitt's Creek''s Daniel Levy: What I Learned From My Dad Eugene Levy
Actor and writer Daniel Levy always resisted the advantages that came with being the son of comedy icon Eugene Levy. But after finding success as a host on MTV Canada, the younger Levy was finally ready to collaborate with his famous father. The result: the sitcom they created and act in together, Pop's Schitt's Creek. Now in its third season, the show stars the Levys—alongside Catherine O'Hara and Chris Elliott—as father and son Johnny and David Rose, who have to rebuild their lives in a small town after losing their fortune.
---
When I first approached my dad about the beginning stages of Schitt's Creek, I felt like the idea was something that was my own but that it could also benefit from his sensibility. I had been playing with the idea of a fish-out-of-water story based on the notions we all have about the way wealthy people live—from the Housewives to the Kardashians—a show about wealthy people losing everything and having to start over.

I knew that it didn't feel like a conventional sitcom. I've always admired my dad's work, especially all the movies he wrote with Chris Guest and his work on SCTV. He has such a special comedic sensibility, and one that is rooted in genuine characters. I knew this idea could benefit from his input, and it might be something that he would get a kick out of.
Schitt's Creek is certainly a cross section of things that he finds funny and things that I find funny. We both share a desire to tell stories about characters who are rooted in reality. What I've learned from my dad is that you don't have comedy unless you have characters who are real. They can be as big and broad as possible, but the story has to be based on something with heart. That's what has worked for him, and keeping that in mind season after season has been really beneficial in the writers' room.
This has been my first opportunity to work as a writer in TV and as a showrunner. For the first season I really did rely on my dad and his experience to help drive the show. And very quickly it became clear that he trusted my vision. By the second season he stepped out of the writers' room and let me run free with it. For me, professionally, it was one of the greatest gifts he could have given me.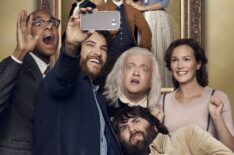 See Also
The star and creators of Fox's time-travel comedy mess with the past.
My dad has managed to have a consistent, successful career that I think is based not just in talent but in humility and professionalism. And in this industry that says a lot about a person and their work. To have him as an example, in terms of how to navigate this business, has been invaluable.
—As told to John Russell
Schitt's Creek, Wednesdays, 8/7c, Pop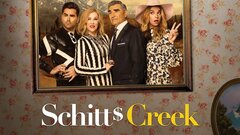 Powered by