WATCH: Amazon's 'Sneaky Pete' Drops Season 2 Trailer, Announces Premiere Date
Amazon Prime Video announced on Thursday that Season 2 of its original series Sneaky Pete will premiere Friday, March 9, and include 10 episodes.
According to a release from the streaming service, in the new season, "Marius (Giovanni Ribisi) is dragged back into the role of Pete Murphy when two thugs—believing he's Pete—threaten to kill the Bernhardts if he doesn't take them to Pete's estranged mother and the millions she stole from their employer. Now Marius must tread a dangerous line to find her and protect the family, all while keeping up the Pete con."
Sneaky Pete's first season was a major hit. Not only did it score 100% on Rotten Tomatoes, but it was the "second most streamed original scripted series on an opening day," per Amazon.
"After the tremendous critical and customer reception in its first season, we're excited to debut another season of Sneaky Pete," said Sharon Tal Yguado, Head of Scripted Series, Amazon Studios, in the release. "Graham [Yost] and his team have crafted a second season that really raises the stakes for Marius and everyone involved."
The series is executive-produced by Emmy-winners Graham Yost and Bryan Cranston.
Watch the trailer below:
Sneaky Pete Season 2 Premiere, Friday, March 9, Amazon Prime Video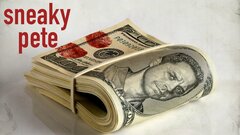 Powered by