Libe Barer: 'Sneaky Pete' and Carly Are 'Kindred Spirits,' Should Team Up in Season 2
Amazon's original series Sneaky Pete has taken streaming by storm. The Bryan Cranston (Breaking Bad) and David Shore (House) helmed show has already been picked up for a second season after its January 13 premiere. Among its talented ensemble cast is Libe Barer who plays Carly, a teenager with a bold and sometimes criminal nature. Carly is part of a family who falls prey to the con-artist Marius (Giovanni Ribisi), and she is the most skeptical of "Cousin Pete's" reappearance.
TV Insider recently spoke with Barer regarding her character and the possible avenues of Season 2. Check out what she had to say.
Your character Carly is the most perceptive about Cousin Pete's true identity: Do you think you could spot a con like that in real life?
I don't let things go by without looking closely so I'd like to think that I could spot it.
You've appeared in shows like Parenthood and Grey's Anatomy, is there anything you learned from those experiences that you found useful while working on Sneaky Pete?
Definitely. Everything I've done has been a learning experience. Grey's Anatomy was my first guest star that I did and I remember seeing the way that the regulars interacted with the material and with each other. That was probably the first place where I learned the behavior of how to be on set regularly.
RELATED: Bryan Cranston 'Hands-On' in New Sneaky Pete Role
Things started to take a pretty crazy turn towards the last few episodes, how did you prepare for Carly's not so successful standoff with Detective Winslow (Michael O'Keefe)?
[Laughs] Yeah, that was fun. I went in and worked with a gun before we shot. I try not to come in with a bunch of ideas of how I want the scene to go. By that point I knew the character well and had really gotten into her skin, so I just tried to read the script over and over again and absorb. So when I get there I can just play and be alive in the moment.
What was it like to work with actors such as Bryan Cranston and Margo Martindale?
It was amazing. I just tried to be conscious enough to make every day a lesson. [What I learned from] Margo is how it's not enough to do what's written, but it's about bringing life from it, like really extracting all the super human moments from [the material]. I didn't get any scenes with Bryan, but acting together at the table read was incredible. Actors like Giovanni and Margo though, working closely with them, and seeing the way that they really found life from what was written on the page was incredible.
RELATED: Amazon Renews Sneaky Pete for Season 2
Carly is a tough-girl, what inspiration did you draw upon to portray her in such a strong way?
I just tried to find the parts of myself and explore different human aspects of her, like where that strong rebellion comes from. In Carly's situation it's all about survival. She doesn't really rely on anyone and I think just finding those parts of myself and [bringing] all of the different aspects [to life] are kind of what I did.
Do you relate to Carly at all?
Yeah, definitely. I think she's a lot darker than I am, but I definitely have that sort of rebellious streak in myself as well.
How long did it take you to learn that coin trick?
[Laughs] So there's actually a funny story behind that. That's the episode that Bryan directed and he emailed me [to ask] if [I] wanted to work with a specialist and learn how to do it, and I [said yes]. I actually wound up getting really sick and I hadn't really eaten or had any coffee or anything so I was just going to sleep until I had to go to work. I wake up to a text from Bryan's assistant to have a meeting with Bryan and a magician. So I deliriously stumble into a cab and go to the office and the magician is there and he teaches me how to roll the quarter over my knuckles. I had a few days to get it down and by the end it was super fun and I love doing it.
What would you like to see for your character in Season 2?
I don't know anything about what's going to happen, but I'd love to start getting more involved in the con stuff. Carly sort of found a kindred spirit in Pete and I'd love to see that relationship sort of come to fruition in more of a partnership kind of way.
Sneaky Pete has a lot of tense moments, how did you guys lighten the mood around set?
We all had so much fun together; it's just such a fun group of people. I remember when we were actually shooting the pilot and it was the dinner table scene at the end. It was the first time that the family was all together [and] it's super late at night, and Margo and Peter (Gerety)… they just start singing these folk songs. Everyone was always giving full performances, nothing is half-hearted, and in between takes we can just be silly and enjoy each other's company.
Sneaky Pete is available for streaming on Amazon Prime Video.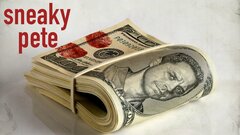 Powered by