'Shameless' Newbie Sammi Hanratty on Crazy Kassidi and the Season 8 Finale
Shameless never disappoints when it comes to being… well, shameless.
One of the best additions in Season 8 has been Kassidi (Sammi Hanratty), the high-on-life (and other things) teenager who shacked up with second-to-youngest Gallagher, Carl (Ethan Cutkosky). Kassidi and Carl's meet-cute was anything but conventional: Carl had Kassidi detained in his basement as part of his, ahem, unique detox program. Still, the pair still managed to fall in love and get married.
See Also
The long-running series returned for its eighth season last Sunday.
Since her entrance in Episode 7, Hanratty—previously seen on shows like Salem and The Vampire Diaries—has really displayed her range through Kassidi's ever-changing moods and increasingly shocking behavior. In the penultimate episode, she really took things over the edge when she posed for a selfie with a dead body.
Ahead of the January 28 finale, the 22-year-old actress spoke with TV Insider about the inspiration behind Kassidi, the rebellious teen's future with Carl, and how this season ends. Read on to find out what she had to say.
Were you a fan of Shameless before joining the show?
Sammi Hanratty: I wasn't just a fan, I was a super fan. Actually, these last two years, I've been binge watching the show like crazy. When I got the audition and they told me I had the callback—I didn't even have the role yet—I started crying and I called my mom. When I found out I got the job I was hyperventilating.
Kassidi is an outrageous character unlike anything you've played before. Was this a conscious choice?
Every actor that I know loves to play crazy, and I love to play crazy. So it's kind of like a dream role to be able to play somebody who is just so daring and strong and also just wild and out there. When I first auditioned for [Kassidi], all I knew was that she was a druggie, but I had no idea how far it was going to go.
I would read [each episode's] script and think, 'OK, we're going to be that crazy. Oh OK, this is going to get crazier. Oh, now I'm married and I'm crazy, OK cool.' They just let me have fun with her and that's kind of what I did. Kassidi loves Carl, but she also loves her life with Carl, so everything is just extremely extra. [Laughs]
How did you gain inspiration for this role? Are there any actors or characters you drew from?
I pulled a little bit from past characters on the show, like Monica and Karen. I always call her the 'mini Monica.' She has a bit of Monica in her, but Kassidi, is just her own wild creature as well. I don't think there's been anybody exactly like her because she's just her own person. It's also cool to play a character that actually comes from wealth and a good home, yet she is craving and desiring this grungy kind of Southside life. And for her that's what freedom is.
Your character was introduced in Episode 7 as one of Carl's rehab patients. Do you think his methods helped or hurt Kassidi?
I think she battled with drugs but I don't think that she was very dependent on them. She's the kind of person that did this because it's wild, but not because she was addicted to it. Honestly, when Kassidi meets Carl she thinks his method is pretty idiotic. Once she finds out that it's for money, she [thinks], 'You're dumb, you can get money this way,' and does her little ransom situation. She likes Carl's guts and his ambition but thinks that he lacks the smarts—but that's why she thinks that they're the perfect team.
What do you think is going on with Kassidi? Is it just Stockholm Syndrome?
She wasn't captured long enough to actually have Stockholm Syndrome but I think she just deeply fell head over heels for Carl right away. He was her captor, so I think it was something that she [found] very hot and attractive. But right away you notice, even though she's the one in chains, she's also manipulating the whole situation.
In the penultimate episode of Season 8, your character posed with a dead body for social media. Have you ever done anything crazy for a post in real life? (Obviously, not that crazy.)
It's pretty crazy that we filmed that in October, I think, and just recently there was this scandal with Logan Paul, for doing a video with a dead body. I was trying to keep my mouth shut about the fact that it was about to happen in an episode of Shameless.
I feel like my personality in general is a little bit out there, so anytime I'm doing those live streams you never know what's going to happen. But I'm definitely nowhere near as crazy as Kassidi. Every now and then, I'll make a little snarky-ish comment and that'll be the most risqué thing I'll do. I'm just really honest on social media, so you never know what you're going to get. But overall, I'm a pretty nice person, so it's never too crazy.
Carl finally caved to Kassidi and agreed to skip military school. Will that change in the finale?
Oh, you will see. If you watch the preview for next episode, [Carl] is handcuffed to a bed, so we'll see what ends up happening. One way or another, one of them is going to end up… hurt.
Most of your one-on-one scenes are with Ethan (Cutkosky). Which other Gallagher would you like to see Kassidi have more time with?
That's tough—I'd probably pick Jeremy [played by Allen White], just because I really didn't get a chance to work with him very much. He's such a fantastic actor.
But it's hard because I would either pick Jeremy or Cameron [Monaghan] just because I love him so much. I've known Cameron for a long time—when we were younger, we used to do martial arts together—and I've kind of watched his career blossom. He's just a phenomenal actor. I think it would be really fun to have a Lip-Kassidi moment. I could see him telling her off or something like that. That would be a very cool scene.
See Also
'V lives life with no ­inhibitions,' Hampton says.
But most of the Gallagher's have told her off and she doesn't seem to care?
True, she just thinks that everybody's silly when they say things to her, or about [Carl and Kassidi]. It's kind of like, 'Oh whatever, that's just family, and that's how family talks.'
Can we expect to see Kassidi next season? What would you like to see for her in future episodes?
I would love to be a part of Season 9, but haven't heard anything yet. There's a couple things I just think would be hilarious to happen, but I can't really say because you have to see the finale first [laughs]. It would be giving away spoilers.
At first I thought, what if she got pregnant? But that already happened to Debbie (Emma Kenney), so you don't want to steal her thunder with the baby drama. Then, I thought that it would be a very Kassidi thing to say that she's pregnant without actually being pregnant. I always thought something like that would be an interesting dynamic.
Shameless, Season 8 Finale, Sunday, Jan. 28, 9/8c, Showtime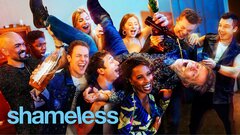 Powered by