Scene Stealer: Shanola Hampton Is Heroic and Hilarious in 'Shameless'
Shanola Hampton steals every scene she's in on Showtime's hit series Shameless.
SHE PLAYS:
Scrappy libertine Veronica Fisher—aka V—who co-owns the ­struggling Alibi dive bar with her longtime lover Kev (Steve Howey) and her Russian ­hooker green-card wife Svetlana (Isidora Goreshter). "V lives life with no ­inhibitions," Hampton says. "She never gets judgy. She puts no limits on love." And how: When V couldn't give Kev a baby, she had a three-way with him and her mother, Carol (Vanessa Bell ­Calloway), so Carol would get pregnant and become their surrogate!
WHERE YOU'VE SEEN HER:
Hampton had recurring roles on the quick-to-fade series Related (2005) and Miami Medical (2010). "Things were so shaky for so long that I never gave up my bartending job—not when I was shooting the pilot for Shameless and not even when it got picked up as a series," says Hampton. "In fact, I waited until we started Episode 2 before I thought it was safe to quit my backup job. That was my reality. Besides, I was a badass bartender!"
WHY WE LOVE HER:
Hampton is both heroic and hilarious as V—and you could power Times Square with her fireball spirit. "Shay has an indefatigable energy, which is truly surprising when you find out she doesn't drink coffee," says costar Emmy Rossum (Fiona). "At 5am, she will breeze into the makeup trailer with a booming, 'Good morrrning, beautiful people!' She's the big sister to literally everyone on the set."
PARISH THE THOUGHT:
"Shameless plays a real mind game with its audience," Hampton admits. "One week we do something that makes people freak and say, 'This show has gone too far!' But then we make sure they come back next week to see if we go even further." Surprisingly, she gets no finger-wagging from her dad, a South Carolina minister, or from his congregation. "You can only imagine the issues they must be grappling with when they watch my show!" Hampton says with a laugh. "But they're all like, 'Oooh, I love Shameless so much…but I better not say it on Sunday!'"
Shameless, Sundays, 9/8c, Showtime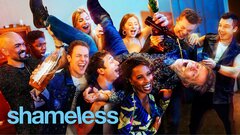 Powered by