'Big Little Lies' Season 2: First Photo of Meryl Streep in Character
UPDATE (4/5/2018):
Monterey has another power woman in town: Meryl Streep!
The three-time Academy Award winner is currently filming the second season of the acclaimed HBO series, Big Little Lies.
She joins the cast as Mary Louise Wright, who is the mother of Alexander Skarsgard's character Perry Wright (now deceased) which also makes her the mother-in-law of Celeste Wright (Nicole Kidman's character).
Kidman posted a snapshot of Steep and her two TV sons on Instagram in a first look photo. Check it out below:
ORIGINAL STORY:
The star-studded cast of HBO's Emmy-winning series Big Little Lies just landed another huge star: Meryl Streep! Yes, the 3-time Academy Award-winning actress is headed to the small screen.
Streep is set to play Mary Louise Wright, the mother of the now deceased Perry Wright, who was played by Alexander Skarsgard in Season One . "Concerned for the well-being of her grandchildren following her son's death, Mary Louise arrives in Monterey searching for answers," HBO revealed. Which means she will definitely be sparring on-screen with Nicole Kidman aka the newly widowed Celeste Wright.
This is the first major cast announcement for the highly-anticipated second season of the fan-favorite drama.
As TV Insider previously reported, Reese Witherspoon and Nicole Kidman are returning as the main stars and executive producers along with new director Andrea Arnold. Season 2 will air in 2019 and consist of 7 episodes, all written by David E. Kelley. Jean-Marc Vallée is slated to executive produce.
The series is based off the bestselling book Big Little Lies by Liane Moriarty.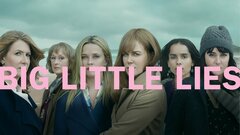 Powered by