'Superstore': Should Cloud 9 Get an Upgrade? (VIDEO)
Does Superstore's Cloud 9 need another upgrade?
Just a few months after their tornado-influenced makeover, corporate tells the big-box employees that their store is in line to get bumped up in Thursday's episode "High Volume Store"—which would include the addition of a Pizza Hut on the premises.
"When you've been here long enough, any change is amazing," Amy (America Ferrera) says in the exclusive clip below. "Plus, it's like, 'Where do you work?' 'Cloud 9.' 'The regular one?' 'Uh, no, the one with the Pizza Hut.'"
But not everyone is on-board with the plan: Jonah (Ben Feldman) realizes it might not be all it's cracked up to be, and he wants to investigate what this could mean for their store.
Check out Amy, Jonah, and Dina's (Lauren Ash) debate on the topic:
Superstore, Thursdays, 8/7c, NBC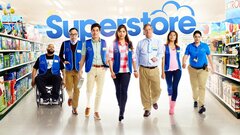 Powered by