My TV Obsessions: 'Superstore's Ben Feldman Reveals His Dream Guest Star Role
Superstore's Ben Feldman on who he thinks is the funniest person on TV.
MY CURRENT FAVORITE SHOW:
Other than Superstore, which is not only insightful, hilarious and paying for my newborn's night nurse, I'd say it's a tie between The Handmaid's Tale and Rick and Morty because they're two of the most thoughtful shows on TV.
MY GUILTY-PLEASURE SHOW:
American Ninja Warrior. This past summer, my wife and I couldn't tell if we watched it a lot because we liked it or because it was on 75 times a week and completely inescapable.
THE FUNNIEST PERSON ON TV:
Nathan Fielder (Nathan for You). I'm never completely sure that he intends to be [the funniest person], and that makes me very uncomfortable, which is peak humor as far as I'm concerned.
THE SHOW I'D LIKE TO GUEST STAR ON:
Westworld. It all just looks so cool. I'd want to be a host, but I'd settle for a creep.
THE SHOW I MISS THE MOST:
It was never time for 30 Rock to be over for me. It always felt fresh.
MY DREAM COSTAR:
If I told you and then I worked with them one day and they read that I said they're my "dream," things would get weird. So, pass.
WHAT I EAT WHILE WATCHING:
Sandwiches when it's light out. Whiskey and wine after dark.
Superstore, Thursdays, 8/7c, NBC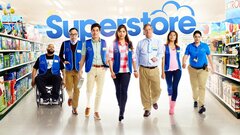 Powered by