Scene Stealer: Thomas Haden Church Is a Relatable Jerk in 'Divorce'
Thomas Haden Church shines as a new divorcee in HBO's Divorce.
He Plays:
Newly single contractor Robert Dufresne, who lost a big business opportunity (and a bit of his mind) thanks to his estranged wife, Frances (Sarah Jessica Parker), in Season 1. The pair dot the i's and cross the t's pretty quickly on their divorce when the series returns, and then Robert amazingly starts to get it together. "Frances and her lawyer drove the fork in pretty deep," Church says. "But we wanted the story to be relatable, not fake-TV-show moody. So he turns himself around. It's a slow process, yet an authentic one—because in real life, divorce is painful, but it can also be rewarding.
Where You've Seen Him:
Giving an Oscar-nominated performance as a self-centered cheating groom who undermines his best friend's plans for a bachelor weekend in Sideways. But Church made his initial mark on TV in the early 1990s as mechanic Lowell Mather on the airport comedy Wings, from Cheers showrunners David Angell, Peter Casey and David Lee. "The auditions were like a who's who of actors," he says. "I remember seeing Brad Pitt and thinking, 'That guy is way too handsome. I don't have a chance in hell to get this role.'"
See Also
Will Engelson's upcoming Fox series hit too close to home for Markle and new love Prince Harry?
Why We Love Him:
Church is good at playing the handsome jerk. But he's great at playing the handsome jerk who kind of knows it, kind of hates himself for it, kind of doesn't, kind of changes, kind of can't, still gets his feelings hurt occasionally—and is ultimately way too complicated to ignore.
Where You Probably Haven't Seen Him:
Hollywood. The actor keeps a house and ranch in Texas—and hasn't lived in Los Angeles for 16 years. "And I haven't missed it," Church says. "It just wasn't for me." Where you most likely (definitely?) haven't seen him: in the hard-to-find (we tried!) 1989 ABC TV movie Protect and Surf. "We were undercover cops living at the beach," he says, laughing. "That's all it's good for, a quick chuckle. I don't think anybody ever surfed in it, but we did a lot of protecting."
Divorce, Season 2 Premiere, Sunday, Jan. 14, 10/9c, HBO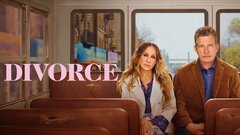 Divorce
where to stream
Powered by