The Fallout Continues: How TV Networks Are Dealing With Sexual Harassment and Assault Allegations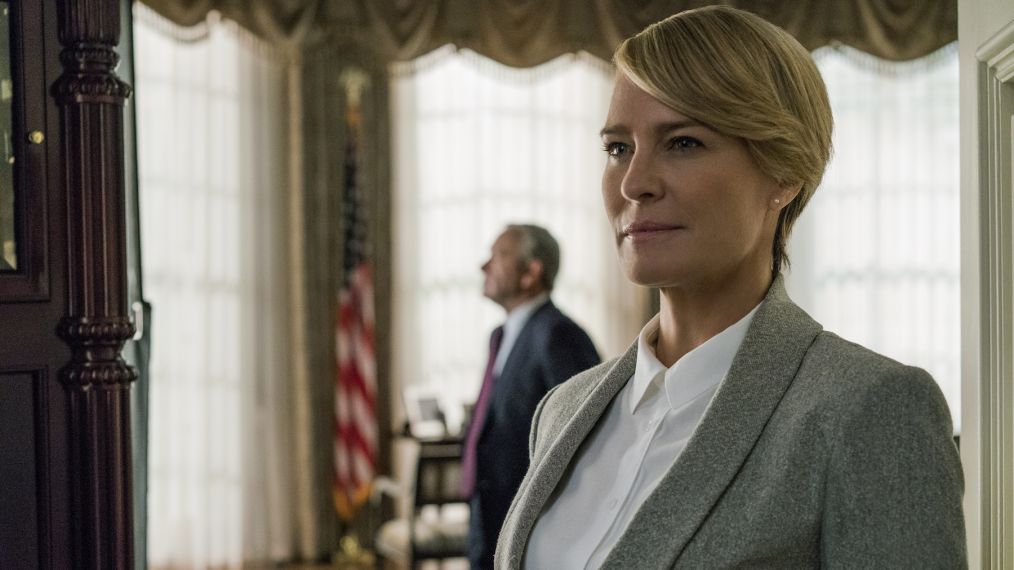 Television's craziest drama isn't airing on any network—it's unfolding behind the scenes. As reports of sexual harassment continue to rage on, each week brings word of another man accused of wrongdoing. Executives then scramble to manage the situation. "The court of public opinion demands swift action," explains Ronn Torossian, crisis expert at public relations firm 5W. "And decisions are made quickly."
Here are the tactics networks are taking and how they're affecting your favorite shows.
LEANING ON CURRENT STARS
For two of its series, Netflix will bank on existing talent to carry them through rocky times. House of Cards, which shut down production in November when Kevin Spacey was let go following multiple allegations, films its eight-episode final season in 2018. "It will star Robin Wright," the streaming service's chief content officer, Ted Sarandos, announced December 4. The actress's elevation was a natural move: Her character, icy veep Claire Underwood, stepped up as POTUS last season.
Over at The Ranch, which returns for Season 3 later this year, Danny Masterson will appear in a few episodes that he's already filmed. But his character, Rooster, was written off the remainder of the installments after several women accused Masterson of rape.
Because series regulars are frequently axed from shows for storyline purposes (hello, The Walking Dead), fans are likely to shrug off the cast shake-ups, says media analyst Bill Carroll. "These changes are more commonplace."
For unscripted series, large ensembles help soften any effects of upheaval. The Chew hosts Carla Hall, Clinton Kelly and Michael Symon have carried on without Mario Batali since accusations of inappropriate behavior landed the chef on ABC's chopping block December 14. (There's no one waiting in the wings to fill his orange Crocs: ABC says it does not have replacement plans.)
Should execs at TLC's home-reno show Trading Spaces decide to boot lifestyle expert Carter Oosterhouse, who's fighting misconduct allegations, there's an even deeper bench it can tap: The revived hit has 13 designers and carpenters.
YANKING SHOWS OFF THE AIR
Comedy Central killed comedian T.J. Miller's The Gorburger Show on December 19 following a Daily Beast report about his alleged sexual abuse. That move follows ABC's decision to pull The Great American Baking Show from its schedule after several women came forward and accused pastry chef and show judge Johnny Iuzzini of misconduct. Alas, the network won't broadcast any remaining episodes.
PRESSING PAUSE
Taking a moment to regroup is a smart move too, says Carroll. "This is an evolving situation," he notes of the current reckoning. "So if you have the luxury to assess what you want to do, you can get a handle on things." That's exactly what TNT is doing. Its docuseries Who Rules the World halted work December 15 when coproducer Morgan Spurlock confessed on Twitter that he had behaved badly.
The future of Amazon's Emmy-winning series Transparent also remains unclear while producers figure out a path ahead in light of allegations against its star, Jeffrey Tambor, who originally announced he couldn't return to the series…but then seemed to change his mind.
MOVING WOMEN UP FRONT
CBS This Morning has yet to name a permanent replacement for ousted anchor Charlie Rose, but PBS—where he also had a show—tapped veteran journalist Christiane Amanpour to headline on PBS in Rose's place.
Over at NBC's Today, Hoda Kotb has goosed ratings since she began subbing for Matt Lauer, who was canned November 29. For the first two weeks, the show hit 4.6 million viewers, beating Good Morning America for the first time in a year. Torossian believes Kotb has earned the spot permanently. "With booming ratings," he says, "it would be silly to look for anyone else."