'Black Lightning' Creator Drew Inspiration for Series From Historical Black Figures
Black power takes on an electrifying new meaning as The CW, which has built an entire universe around the Green Arrow, tries on a different shade for its newest superhero, Black Lightning. Just don't expect him to cross paths with Oliver Queen (Stephen Amell) and Co. anytime soon.
"This first season will probably not be part of the Arrowverse," confirms Salim Akil, who created the edgy action drama with his wife, Mara Brock Akil (exec producer of Being Mary Jane), and pal Greg Berlanti. "I want people to get to know Black Lightning without a lot of interference because he's a fairly new character to everyone."
Based on the DC Comics crusader introduced in 1977 and buoyed by a refreshingly authentic tone, Lightning stars Cress Williams as Jefferson Pierce, a former vigilante with the ability to control electricity. He got out of the game for the sake of his two daughters (Nafessa Williams and China Anne McClain), but when a gang led by albino underworld boss Tobias Whale (Marvin "Krondon" Jones III) begins to threaten his city and loved ones, Pierce—now a high school principal—suits up and charges back into action.
"Of course he's grappling with the question of whether he should become Black Lightning again," says Akil, who drew inspiration for Pierce's journey from both Martin Luther King Jr. and Malcolm X. "He's certainly a peaceful man and he wants to stay peaceful, but for how long? How long can you allow things to get out of hand before you have to take on the mind-set of Malcolm and say, 'We've got to do something for ourselves'?"
Pierce won't be defending the good folks of fictional Freeland alone. By the pilot's end, it becomes clear that Lightning does indeed strike more than once, and that shocking development will only complicate matters for Pierce, as well as two of his nearest and dearest. "First and foremost," Akil says, "he is a father."
Black Lightning, Series Premiers, Tuesday, Jan. 16, 9/8c, The CW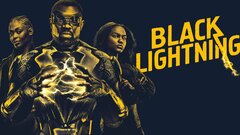 Powered by