Michelle Dockery Gives Us Her Private Tour of 'Downton Abbey: The Exhibition'
If you couldn't get a ticket to the popular Downton Abbey exhibition, you're in luck. The New York stop of the immersive experience from NBCUniversal Studios has been extended. Tickets are now available through April 2. (Click the link above for the official site, with information and ticket availability.) If you can't make it to the Big Apple, the U.S. multi-city tour is still on the menu after it leaves New York.
Check out a sizzle reel of the exhibition here:
TV Insider caught Michelle Dockery (a.k.a. Lady Mary) on the phone on her way to do her new London stage play Network. The actress talked about her reaction to the exhibition on a recent trip to New York and a few of her favorite things, as well as the latest on a possible Downton movie.
I was lucky to see the Downton Abbey exhibit in New York the day before its opening. Now it's been extended several months because of its popularity. Did you expect it to be so popular with the public? The initial run sold out immediately.
Michelle Dockery: We were in New York for the opening, and a few days later we drove past, and the lines were going around the corner from the building. That's when I thought, "This should be extended, so people who want to see it should be able to." I would hate for it to finish and fans out there would miss that opportunity. It's really wonderful how much work has gone into it. You can see every detail from the letters and telegrams that were written out, all the props and costumes; every single one was there.
What was the feeling among the cast members who saw it?
It was incredibly nostalgic for us walking into it. It's been a while for us since we were on set—two years in August. So going into Mary's bedroom and sitting at the dining room table was really amazing.
Did anything get you emotional?
Mary's bedroom. A lot went on in that bedroom, from pep talks from my grandma to scandal with a Turkish diplomat. It was very touching to sit at the dressing table, and seeing that mirror that I spent hours looking into. [laughs] Because Mary was so vain, particularly in the first three seasons. We used to spend a lot of time with the cameramen trying to line up those mirrors so you couldn't see the cameras in the background. It was very funny. It was lovely going back in time for us.
When I talked to Joanne Froggatt, she said she was sentimental about the brush that her character, Anna, used to brush Lady Mary's hair, because she used that prop almost every day!
That's true. And it was there! Right, the glass tray that we used to hold hairpins in. They kept everything. We want the public to have the whole experience of what it was like to be on set. They even have the technical part of the experience, the lighting stands and such. So it doesn't look like you're just walking into a grand house. It actually looks like you're on-set. There's even some interactive parts. For instance, you can discover which character you're close to—whether you're above or below stairs. I didn't have a chance to do it; it would be interesting where I would be.
I was definitely below. They said I'd be the cook, which is something I don't do in real life. Everybody loves the costumes and so many are there. Which is your favorite in the exhibit?
The riding habit. There were two or three costumes for Mary for when she was out riding. I love the detail on the blazer jacket and what looked like a skirt, which was actually huge culottes because you have to be able to get on the horse. I particularly love the costumes she wore in the '20s. How modern they became. There's a blouse that I could throw on with jeans and a pair of heels today and no one would know it's not new. You can see in the exhibition how much the costumes changed just from Season 1 to 3 for the women. Going through that process with our designers Caroline McCall and Anna Scott Robbins was such a big part of the experience for me.
Most of the costumes look vintage. Are they?
The beautiful laces and other materials were bought in Paris. Sometimes there would be an authentic piece, and other times it would be half and half—like a top part of a dress, while the bottom part needed repair. When it was old, I always wondered who had worn it originally or what characters in a play had worn that costume.
What were you tempted to smuggle out from the exhibit—not that you would…
Actually, the letters and telegrams. They were so detailed. Something like that I would snag. If we get back together at some point [laughs] I can steal something. I heard some of the cast did snag things.
From the set, they did. That's true.
I wish I had now. There was this little mustard pot that was on the dining room table. We used to play the game "Wink, Murder," to pass the time between takes. We used to keep the pieces of paper in that had the X that marked the murderer. It was there for six years, and I might have got that one. [laughs]
Speaking of getting together, [producer] Gareth Neame says the script for the Downton movie has been finished. What's the status there?
All I can say is that it's something that's very much in the works, but getting together such a huge cast at the right time is not easy. I am very up to doing it if everybody is on board. So we'll see what happens.
Let's talk about Michelle Dockery's other projects. It looks like you have another winner with Network, your play with Bryan Cranston. Was it intimidating following in the footsteps of Faye Dunaway in the role?
Yes. It's an incredible part, and we're having a lot of fun. It's got such energy in the production that I find it hard to wind down at the end of the performance. I find myself going to bed at 2 in the morning putting Netflix on to wind myself down.
You can watch your Western Godless on Netflix, if that would wind you down. It's been quite popular here.
We're all so proud of it. It was incredible to be part of a Western like that.
Will you be coming back to the States for a third season of your con woman and hit man TNT show Good Behavior?
We don't know yet. If we return, it looks like Javier and Letty will be moving to LA. It would be really interesting to see where their journey goes next!
Final thoughts about Downton: The Exhibition?
When you're doing a show, you often take things for granted because it's your job. So to come back to it, and walking into the exhibition to see all that again, was amazing. I appreciated everything even more.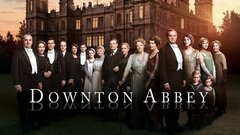 Powered by