Letty and Javier: 'Good Behavior's Hot Couple Comes Clean
Good Behavior opened its second season with a toe-curling scene steamy enough to warrant a title change for TNT's sexy crime caper. We're thinking Smoking Hot Behavior.
There's no question the couple at the center of the lusty action—Letty Raines (Michelle Dockery) and Javier Pereira (Juan Diego Botto)—are the hottest con woman–hit man pairing in TV history. "At their first read together, the chemistry was so obvious and instant," executive producer Chad Hodge recalls. The choice to hire Botto, a little-known Madrid-based actor, was "a no-brainer," he says. Dockery, whose last role had been as Downton Abbey's decidedly more upper-crust Lady Mary, echoes that notion. "Our connection was clear as soon as Juan walked into the room."
Their characters' first encounter was not nearly as promising. Interrupted while robbing a hotel room, Letty hid in a closet and overheard Javier finalizing a deal to murder a client's no-good wife. After she tried to warn the victim, the contract killer with a conscience took Letty captive. Twists, turns and a few power struggles later, the outlaws gave into their mutual attraction.
By last season's end, Letty—an alcoholic ex-con—had begrudgingly ratted out Javier to the Feds in a desperate attempt to regain custody of her son, Jacob (Nyles Julian Steele). She later gave Javier a heads-up, he forgave her and they went on the lam, with FBI agent Rhonda Lashever (Emmy winner Ann Dowd) on their tail.
Despite the precarious situation, "there's this fantasy that they can be a normal family with a kid and a nice house in the suburbs," says Botto. They've both promised to quit their dangerous trades, and Javier now has a job as a line cook. But that won't pay the bills of the upscale beach house the duo is hiding out in or the private school they've sent Jacob to. And normal most definitely doesn't quell their need for "the thrill of the life they used to know," Botto adds.
"Season 2 is about Letty and Javier coming to terms with who they are," Hodge says, "and then deciding whether they're OK with that." It doesn't take long for the twosome to go back to their old ways, which means being cool with the occasional dead body and all that purloined stuff in the garage. What could be toughest to achieve, though, is hiding the truth from the perceptive Jacob, who's already asked how a cook can afford the nice car Javier is driving.
In the October 29 episode, the trio spend Christmas with Letty's mom, Estelle (Lusia Strus), and her sweetly dim young husband, Rob (Joey Kern), who, as it turns out, doesn't have enough money to pay for the posh hotel he wanted to impress them with. Letty happily volunteers her special set of skills to remedy the problem. "It's Christmas, everything seems to be great and then out of nowhere something happens that leads the story to take quite a turn," Dockery says. Let's just say Santa put coal in Letty's and Javier's stockings.
"A storm is starting to brew around them," the actress continues. "The challenges become more intense, and life gets tougher." At the center of that storm: Lashever and her lover/unwilling accomplice, Christian Woodhill (Terry Kinney), Letty's former parole officer.
"Their chemistry too was a revelation," says Hodge of the odd couple whose humorous, verging-on-S&M interactions make the central love affair between criminals seem almost tame. And what happens in the November 5 episode will shake up these four characters and the story's arc in an unexpected way.
"Letty will have to make some very difficult decisions," Hodge teases. "But what terrifies her most is the chance she'll lose her son again." As for Javier, Botto says, "This is a guy who kills for a living but at the same time, he would cry watching Letty suffer." Adding to the drama is Javier's shady old friend Teo (Juan Riedinger), who once dated Javier's sister, Ava (played by Botto's real-life sibling, Maria). "He plays a big role in a mystery that gets bigger as the season goes on," Hodge hints.
At the core of the show, however, is the cracked fairy tale in which an unlikely princess and her prince are each awakened by the other. Like any storybook hero, Botto says, "Javier has this illusion he can somehow help Letty. He knows that the only chance they have to be normal is with each other."
Dockery agrees. "They can't escape their pasts, but the harder things get as the story goes on, the deeper their relationship becomes."
Here's hoping for happily ever after.
Good Behavior, Sundays, 10/9c, TNT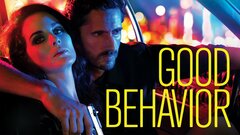 Powered by