Step Inside the World of 'Downton Abbey'
The Crawley family's treasures are coming soon to a town near you with Downton Abbey: The Exhibition. Enough to satisfy any acolyte of PBS's rich period drama, the traveling collection features more than 1,000 pieces of memorabilia and re-creations of the set, including the kitchen and Lady Mary's (Michelle Dockery) chambers. Fun bonus: Upon entering, visitors are greeted by a holograph of housekeeper Mrs. Hughes (Phyllis Logan).
"It was wonderful seeing Lady Mary's hairbrush again," says Joanne Froggatt, who played ladies' maid Anna Bates and was one of several cast members at the exhibit's November 18 opening in NYC. "I spent years holding that brush!" For Lesley Nicol—aka head cook Mrs. Patmore—the nostalgia was triggered by "the cupboard in the corner where we actors used to hide our phones!"
See Also
Dowager Countess of Grantham would approve.
Of course, no Downton tribute would be complete without the stunning array of upstairs/downstairs costumes like Mary's lace gown (left). The multicity tour kicks off early next year: For tickets, visit downtonexhibition.com.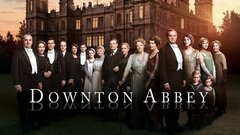 Powered by