'Berlin Station': Leland Orser Talks Big Season 2 Finale Moments and Hopes for Season 3
[Spoiler Alert: Do not read ahead if you have not watched "Winners Right the History Books," the Season 2 finale of Berlin Station. Major plot points discussed ahead.]
And, after a wild ride over the past nine episodes, that's a wrap on Season 2 of EPIX's spy drama, Berlin Station. But so much went down as our team of spies tried to figure out who exactly ordered the assassination of political candidate Katerina Gerhardt (Natalia Wörner) as well as get their own ducks in the row as the Berlin Station once again went through some big changes with Steven Frost (Richard Jenkins) returning.
But, there's so much more to talk about with the finale episode, so TVInsider sat down with Leland Orser (Robert Kirsch) to get his take on everything that happened and if fans of the series should be hopeful for a third season and the love fans have for Robert's white t-shirt!
See Also
'I'm pretty high-energy, and some of my views are surprising,' says the comedienne.
I'm so glad Kirsch had some time with his son and told his son everything. What did you think?
Leland Orser: When they first told me they were going to introduce my teenage son and bring him to Berlin, I thought, "Oh God, are you going to put him in the middle of the action? Is something bad going to happen to him?" But it was really just living life and living life as a single parent, and living life with a snarly teen in the house everything between a father and a son. The boy is looking for identity, and identity is what we are all about. It's what Robert Kirsch's job is all about, so for him to have to come clean about his own identity to his son who's searching for his identity is a sort of beautiful reckoning and a beautiful come-to-Jesus-moment for both of them. [Watch the clip of this scene here.]
You and Rhys (Ifans, who plays Hector) always are so fun in a scene since, basically, these guys just loathe each other. How are those scenes to shoot?
The problem with me acting with Rhys is that he makes me laugh nonstop but he fully and totally succeeds in this role in transforming himself. He knew what he wanted, like everybody on the show, actually. Ashley (as BB Yates) arrives in Berlin, knew exactly what she wanted from day one.
But when Hector and Kirsch are in the conference room and he just looks at Kirsch and says "You're such a d**k, Robert." It's so awesome.
In one of the takes he was literally throwing things from the table at me.
Oh, there were like crumbs and snack wrappers all over the table…
Yes! I just stared him down as the stuff was coming. I think in one take he actually hit Richard Armitage in the face with something. It just sprayed all over him. We need a blooper reel.
It still blows me away how close the storyline in the show reflects what's going on in our world, in Germany's own elections…
None of it was planned. It's sort of astounding.
I love the moment when BB comes back right after Robert has said goodbye to Noah…
It sort of reminded me of that moment in Terms of Endearment where Jack Nicholson walks in and Shirley MacLaine says, "Who ever would have thought you'd turn out to be a good guy." But Kirsch is there as his son's left after they finally come together and now his son's going away and he's heartbroken. Then he turns around and who's standing there to pick up the pieces?
I became totally, emotionally overwhelmed in that scene. It was in the last few days of shooting the show, Richard Jenkins, as Steven, is standing there, this little, sweet boy, Brandon, it was going to be one of his last days. I remember Giuseppe Capotondi, the director, said to me, "Leland, I think there's been a little bit of transference for you with Noah" You know, from my own son. I'm like, "Well, I don't think so," and he goes, "No, I think there has." When the two of us were upstairs in the scene, I said to Brandon, "You've got to feel, as an actor, comfortable to do anything, and to make mistakes, and to be open, and to draw from yourself." We finished the dialogue of that scene and out of nowhere Brandon said, "I'm really going to miss you." It just wiped me out, you know?
So that was not scripted?
Completely unscripted. I don't even know what he did, it just came out of him. You know? It was beautiful.
So let's talk BB and Kirsch. I sense love between them. What do you think?
In Norway, on the side of the ferry that we're taking, Steven says to Robert, "You care for her, don't you?" and Robert says, "Yes, I do." That's a big deal for somebody who's sealed himself up for years and has now opened himself up again. They're both damaged, you know?
See Also
Who doesn't love a good gun fight or an old-fashioned prairie romance?
Tell me about the moment when Frost returns to the Station. There's something really triumphant about that scene where he and Kirsch walk in.
We didn't skip a beat with BB arriving. The season starts with us in motion. We're on the move, and it's happening. We don't miss a beat with Frost being gone but with him being back on the premises, you realize and remember just how great he was and how great he was in the job. So I think that's a testament to both Ashley and Jenkins and how both of them filled those shoes so well.
The season ends in a good place for everyone, but I know as a viewer I don't think this story is over and the show isn't over, so, let me ask—should we be hopeful for a Season 3?
Of course you should be hopeful! I mean, what are we without hope? What are we without Season 3? I think we have a lot more stories to tell and the news last week of EPIX making the deal with Comcast is a big deal. 70 million viewers have EPIX available to them
And the fans! If you were on my feed right now, it's bubbling over into a veritable frenzy over Season 3 and they're hounding me. If you could hear the volume of their voices through their words … all caps. It's like, "Don't like my tweet! Tell me!" Ours fans are really f***ing smart, and they're organized. When Robert was first in civilian clothes and I wore a white T-shirt, that all of a sudden went, in our little community, viral. On Sunday night, everybody that is following and fanning with us is going to be watching the finale in a white T-shirt. It's so much fun!
Berlin Station Seasons 1 and 2 episodes are available on EPIX.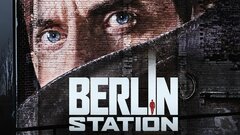 Powered by