'Berlin Station' Preview: What Does Hector Want From Kirsch? (VIDEO)
The second season of EPIX's spy drama Berlin Station is off and running, and along with new cast members  Ashley Judd (as station head BB Yates) and Keke Palmer (as newbie agent April Lewis), our resident spies are getting pulled in deeper and deeper into various nefarious assignments.
Of course, as anyone knows from the first season's escapades, whenever former agent Hector DeJean (Rhys Ifans) shows up, things always get more dangerous and complicated. That may explain why Berlin Station Deputy Chief Robert Kirsch (Leland Orser) is anything but happy to see Hector when they cross paths in this Sunday's episode of Berlin Station.
In fact, in the episode, Kirsch thinks he's going to be meeting agent Daniel Miller (Richard Armitage), who has been out on assignment, so imagine his surprise when it's Hector he ends up talking with.
Check out this exclusive clip from Sunday's episode with the fiery exchange between the two men. And while Kirsch doesn't want anything to do with Hector, he may have no choice. Watch the clip here:
Berlin Station, Sundays, 9/8c, EPIX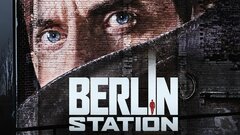 Powered by