Roush Review: Freeform's Mundane 'Shadowhunters'
It probably didn't help that I was listening to my soundtrack of the classic "Once More With Feeling" musical episode of Buffy the Vampire Slayer shortly before dipping into the murky world of Shadowhunters, where the exposition most certainly does not sing. (I did get a chuckle when the main character gripes, "You're just saying words now." Word.) I just wasn't feeling this painfully generic adaptation of The Mortal Instruments book series by the end of the convoluted first hour, which is all that ABC Family—oops, Freeform—made available. Not the most auspicious start for the rebranded channel, which sounds to me like some newfangled bra.
Shadowhunters opens on the worst 18th birthday ever for Clary Fray (Katherine McNamara), whose gift of an ancient heirloom comes with a warning from her mom: "Everything's going to change for you now." Our beautiful red-haired heroine quips, "It's not like I'm heading off on some epic journey," but if she weren't, what's the point?
RELATED: Here's What Matt Thought of This Month's New Shows
Not that there is much point to this frantic exercise in good-vs-evil, which escalates when Clary's mom is kidnapped by demonic forces having to do with something called "The Circle" and the "mortal cup" she's been hiding. "You're more powerful than you know," Clary learns to her dismay, after being caught up in a battle between a tribe of very attractive half-angel Shadowhunters and their demon prey, who explode into cascades of sparkly ash when struck by glowing swords that look like discount light sabers from a Star Wars remainder bin.
"All of you stunning people have magical powers?" Clary gawps to her new family of friends, who inhabit a shadow world that humans—known as "mundanes"—can't see. Really, Shadowhunters? Mundanes? Takes one to know one.
Shadowhunters, Premieres Tuesday, Jan. 12, 9/8c, on Freeform (previously ABC Family)
---
Questions? Ask Critic Matt Roush!
TV critic (and occasional TV therapist) Matt Roush answers viewer questions and concerns in his Ask Matt column each week. Wondering about plots, characters and twists on your fave shows? Submit your query to Matt via the form below: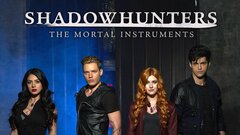 Powered by