Chris Evans to Narrate Nat Geo's Military Documentary Series 'Chain of Command' (VIDEO)
Captain America himself, actor Chris Evans (the upcoming Avengers: Infinity War), has been announced as the narrator of National Geographic's new military-themed documentary series Chain of Command, debuting on the network in the United States on Jan. 15, and airing globally in early 2018.
The eight-part Chain of Command was filmed over 18 months and uses incredible access to document the line of authority and responsibility in the U.S.military. Including a rare on-camera sit-down with Gen. Joseph Dunford Jr., the 19th chairman of the Joint Chiefs of Staff, the series journeys from the halls of power at the Pentagon in Washington, D.C., to the front lines in Mosul, Iraq; Afghanistan; Somalia; Niger; and South America, and to the surprising ISIS recruiting ground of Trinidad and Tobago—only 1,600 miles from the coast of Florida—to show viewers firsthand how decisions made at the Pentagon have a direct impact on service members on the ground, fighting to protect Americans and our allies from radicalized extremists.
Here's a first-look clip from Chain of Command:
"I'm proud to be a part of any project that shines a spotlight on the incredible work our armed forces do every day around the world," said Evans, who has served as a spokesperson for Got Your Six, in a release. "I think this series is an important opportunity for all of us to understand and appreciate the people who put their lives on the front line every day to keep us all safe."
"We couldn't think of a more natural fit to narrate our series about America's real military heroes than Chris Evans, one of America's favorite big-screen action heroes," said Tim Pastore, president of original programming and production for National Geographic.
Chain of Command, Monday, Jan. 15, 9/8c, National Geographic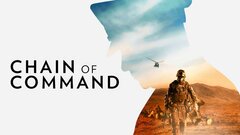 Powered by