Michael Kelly on Nat Geo's 'The Long Road Home': 'I'll Carry This for the Rest of My Life'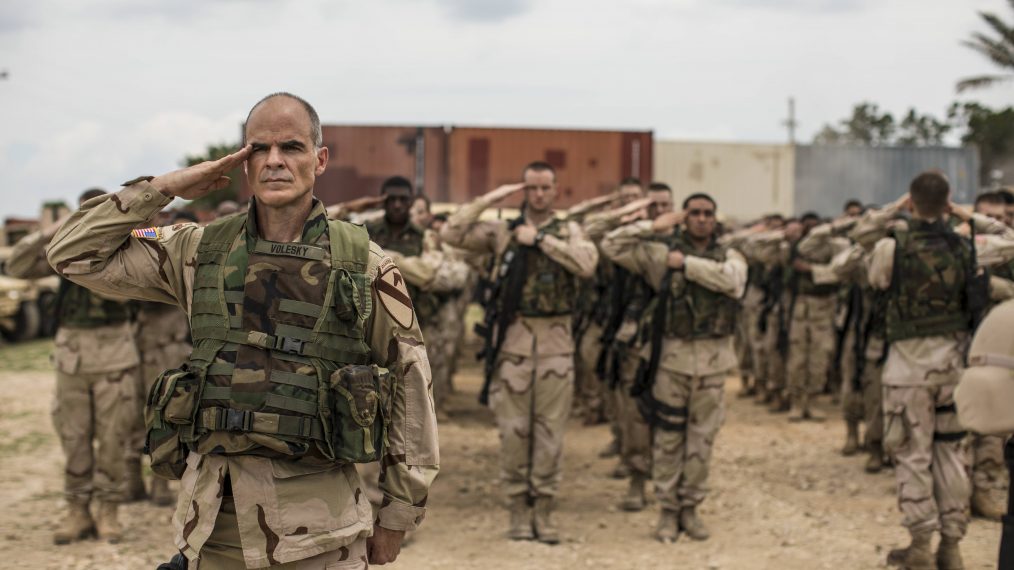 Michael Kelly had just wrapped six months in Baltimore filming House of Cards' fifth season when the offer  to play Lt. Col. Gary Volesky in National Geographic's The Long Road Home came his way. A weary Kelly was eager to return home to New York, take a little time off and enjoy a spring break trip with his wife and kids that was already booked. "Before I even read it, I was like, 'As much as I want to do it, I gotta say no,'" Kelly recalls.
His manager persisted, so Kelly picked up a script. Then another. Then one more.
"It piqued my interest, so I started Googling Gary Volesky, and that's what did it for me," Kelly recalls of playing the real-life war hero whose newly arrived 1st Cavalry Division Platoon was ambushed while on a humanitarian mission in Sadr City, Baghdad. With no time to plan, Volesky launched and coordinated a massive rescue operation in a suddenly hostile city on a formative day in the Iraqi conflict that was christened Black Sunday.
"I watched some interviews that he did with Martha Raddatz [who wrote the book on which the 8-episode event series is based] and she said, 'You're basically a hero.' He was like, 'The real hero is my wife who stays home and does this without me for a year and a half.' It was just him and his absolute genuine, true loyalty to his men, to what he does, to serving our country."
Kelly showed the clip to his own wife and told her "I owe it to this man to play him the best that I can play him, because here's a guy who's out there fighting for my freedom to do what I do for a living." Then Kelly called showrunner Mikko Alanne and made a deal. "I said, 'Just block me off one week somewhere in that schedule — give me one week that you won't touch me.' We took a separate spring break, and it was all good," Kelly smiles. "The book is so good. And the script was so true to the book and it's so very rarely the case like that. Anyone who's read the book and is a fan of the book will be really happy with the product."
Here's more of what Kelly told TV Insider about the series, the real-life hero he plays and the lasting impact the series had on him.
I spent several days on set and couldn't talk to the veterans of the ambush who were there, too, without getting choked up. As you made the series, what was it like for you to absorb what these men and their families went through and their commitment to their country, to the military and each other?
Michael Kelly: Things were a little quieter than normal on set. Things were a little more respectful, because you knew these guys made the ultimate sacrifice for you. You feel that sense of responsibility, you feel that enormous weight on your shoulder to do it the best you can do because of that. It was difficult to play someone who all these men considered to be God. Everyone one of those men looks up to Gary Volesky, still to this day. Said if he'd call them, they'd follow him to hell. They'd rob a bank with him. Anything he asked, they'd do it, today—13 years later. It was an enormous weight on my shoulder to get it right.
Any particular personal stories you can share?
The night before the memorial—it was 13 years ago when they were there and it was the anniversary and all the guys come into town and get together at Fort Hood—and the night prior, Martha had done this little thing at a honky-tonk for us. I walked in a little bit late and all the guys were there and Eric [Bourquin, also a main character in the series, played onscreen by Jon Beavers] and a couple of others were introducing me to all the guys who were there at the time. They were like, "This is Michael Kelly, he's playing Gary Volesky," and they literally looked me up and down and were like, "Good luck." One hundred percent sincere.
So I was straight up with them, too. I'm like, "Look guys, I'm scared, too." It was overwhelming to play someone who's still alive, who was such an incredible man. Then there we were four or five days later and I met actually General Volesky. He came to the set and we had an incredible time together. Within one minute of meeting him, he shook my hand, gave me a little hug, and he looked me up and down and he was like, "OK. All right. I see it." We went for a walk and we talked and he was just so genuine with his time and knowledge and stories. It really gave me a little more insight on how to better play him just from meeting for that brief period that we had together."
What did you most want to know from him?
Most of these guys are never going to talk about themselves unless they're pried to. Never talk about their accomplishments, and it's unbelievable because some of the stories that you get out of them, if you or I had done it, we would be bragging about it till we went to our grave, but you would never get it out of them unless you pried it out of them. What I worked on, and just through talking to him and listening to him, was the essence of the person. He touched everybody, so I did that all the time after meeting him. No matter what happened, he was steady. How to convey or show that you are hurting inside without showing it because you have to be able to take those emotions and bury them, because you have to put a front on for your men. That is why he's a three-star general now and will likely be a four-star general one day.
Do you have a favorite moment from the series?
I don't know when it is in the story, but I have this moment where, after knowing what's going on, I'm preparing to go out there and [Gary] stops and he says a prayer and he tucks in his Bible with his family picture in it. That was, to me, a real glance at who this man was. He was very strong in faith, and that was one of my favorite moments.
Will this project stay with you? Because I can't imagine it won't.
Without a doubt. There's no doubt I carry this for the rest of my life. I'll carry this experience. I'll carry this story. And I'll carry the respect that I have for the men and women who do what they do for me, for you, for all of us to live this incredible life that we get to live. Because there's someone like that who is literally putting their life on the line for you.
If there's anything that comes out of this, that's what I want the general public to know. To have a better awareness of the sacrifices that the military makes for us on a daily basis. You hear about a soldier who dies and you're like, 'That's so sad!' When you watch this, you're going to be like holy !@#$. Thank you.' You see a service member—'Thank you!' It's something I always did, but now I understand a lot more.
The Long Road Home series premiere Tuesday, Nov. 7, 9/8c on National Geographic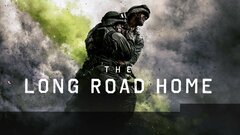 Powered by