Martha Raddatz on Turning 'The Long Road Home' Into Television, and Lifelong Bonds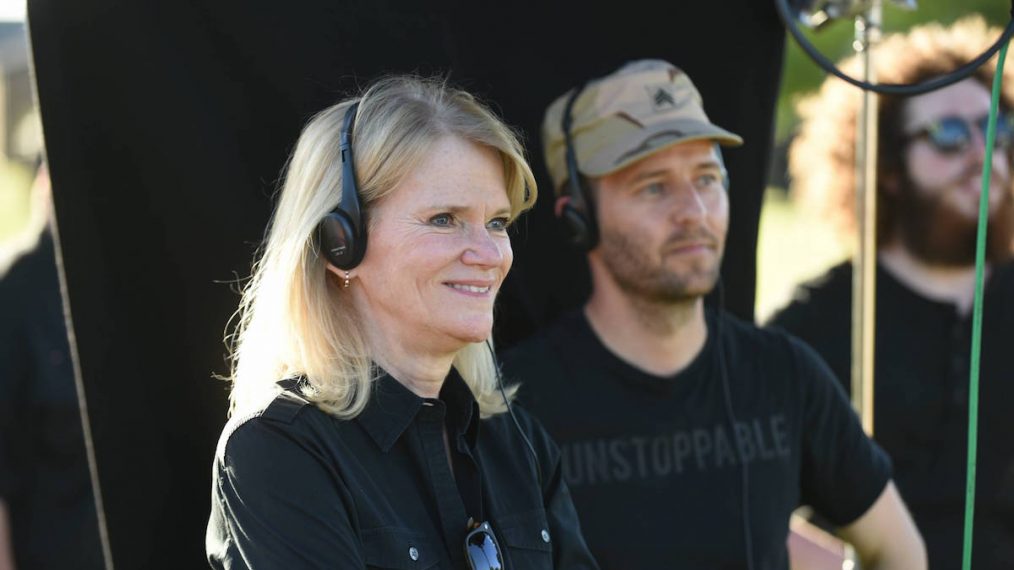 In 2007, ABC News Chief Foreign Affairs Correspondent Martha Raddatz—then Chief White House Correspondent—published The Long Road Home, an intensely personal account of 2004's "Black Sunday" ambush in Sadr City through the eyes of the First Cavalry Division platoons involved in the attack and rescue, and their terrified family members at home.
Ten years later, Raddatz says, "There is nothing that has been more meaningful in my career than this story—and not just because of the story itself or the interviews I did, but because I've maintained the relationships. Because these guys are my brothers, and their spouses are my sisters. And for me, it was the first time I had heard those stories of the Iraq War so closely."
See Also
Plus, check out photos from our visit to the set!
The book quickly become a bestseller, catching the eye of legendary filmmaker Mike Medavoy, who sent a copy to screenwriter Mikko Alanne, thinking they would turn the moving, eye-opening tale into a feature film. But as battle-weary Americans cooled toward war-themed projects, Hollywood did, too. Undeterred, Medavoy and Alanne regrouped to form a plan-B, one which would slowly and lovingly evolve into National Geographic's remarkable 8-episode event series also called The Long Road Home.

Sitting on the Long Road set in Texas on a stifling early June night, Raddatz is flanked by Alanne and her fellow journalist Bob Woodruff, who was critically injured while embedded with troops near Baghdad in January 2006. Though Woodruff isn't an official part of the project, his companions agree his perspective is vital.
"Bob has done more with these soldiers than any of us here ever, ever, ever, and knows more soldiers and Marines and military personnel and families and what they go through," Raddatz says, beaming at her longtime ABC News colleague.
We asked the award-winning journalist more about watching her story and her "guys'" stories take shape for the television audience, and also gained insights from Woodruff and Alanne.
This is a story, subject matter and characters that are extraordinarily close to your heart. Did you feel protective as this series began to take shape?
Martha Raddatz: You betcha! But one thing Mikko's done, that is so amazing—and we've been together nine years—is through different iterations and different ideas, he not only wrote a beautiful screenplay, but he also expanded on the information. I mean, he got to know some of these guys better than I did! I'll read stories in the script and say, "Oh my gosh, I didn't know that!" He's done such a beautiful job.
And what you say about caring about them, Mikko's heart was in this from the beginning, too, and he cared about everybody and knows them all so well. To me, I just knew not just me, not just the book, but my guys and my families were in good hands. Just little things—like Justin Bellamy. He texted me and said, "Martha, you know in the book you had me as a specialist, but I've just been promoted to sergeant. Is there any way the guy who plays me in there can have a patch of sergeant, because it meant a lot?" And Mikko immediately changes it. Just little things.
See Also
'I'll carry the respect that I have for the men and women who do what they do for me, for you, for all of us to live this incredible life that we get to live,' says Michael Kelly of playing a real-life war hero in National Geographic's 'The Long Road Home.'
To that end, this is a television show, and with that comes the inherent requirement to "entertain." Can you talk about the process of trusting that these soldiers, these families and their stories would be represented in this series in a way that would honor them the way that your book did so beautifully—i.e., a rending character study in the worst of settings?
Raddatz: One of the things that Mikko has done, which Bob and I know, is these guys are not [presented as] cliches. Americans sometimes cliché our military—they're heroes or they're not heroes or they're this or they're that." And I think one thing—I know one thing—is one thing Mikko knows is that they are all human beings, just like us. Mikko tells a great story, a compelling story, in this television series. But he has the material because of who these people are and because of who these families are and because of the stories that are so genuine. Every year, Bob and I have a hard time at our "Stand up for Heroes" thing—because you don't want the audience to look at them and say, "Oh, there's a cliché."
Alanne: There's good sides and bad sides to all the people in this book, in the places like this. But you've got to tell everything. You can't just make it a pure hero kind of movie.
Raddatz: And to me the most compelling thing when I started is, "Wow, these guys, a week ago, had never been in battle." You can train and train and train. But they never expected to be in battle and they had not been in combat. It really is like us going over there.
I always say, it's like the minivan to the Humvee. Within a week, Troy Denomy's driving around his newborn baby, and then he's a bazillion miles away, facing bullets and death. When it really happens to you, it's a whole lot different. And that never goes away. That moment when the shock of war hits, from that day on they were all different. They were not the same guys in the minivans, they were not the same guys the day before.
We did the 10-year reunion out here with everybody, and the bond does not go away. It will never go away. What's fascinating, too, is you still have so many active-duty guys. I don't know how many movies or films portray people who are still on active duty. It's quite extraordinary. [Nods at Woodruff] He'd know that better than anyone. Bob is a fabulous journalist, but that moment he was hurt and it became very real.
Bob Woodruff: They are never the same—but there are some that are better. I think there's always an assumption that they're never the same—that they're all screwed up—but some of them, they're more interesting, more responsible.
Raddatz: Bob's point is a really, really important one. It's not that you change and you all have PTSD. You become a warrior; you are a warrior that day—[with] all the good things about that, all the bad things about that, all the growth that you have in that moment. You have an experience cannot be replicated by anyone.
Robert Miltenberger [played by Jeremy Sisto in the series] for years would not talk about this battle; would not talk about what he did with anybody but me. There were a few years there where we would have these conversations and I would be talking with Robert and Belinda, and I would ask Robert, "Why don't we tell Belinda,who's sitting right next to you, about these things?" And he'd go, "Merrrhhh."
I always felt like a bridge between some of these guys and the families, because I had been there. I'd experienced it. I've been over there and I had seen it in ways that I could, so certainly that part of me relates to the guys. But when I come home, I'm a wife. So, I could bridge that gap between them in ways that were great for me, emotionally and professionally and personally.
See Also
Former 'Walking Dead' star Sarah Wayne Callies talks National Geographic's 'The Long Road Home'—and the impact of playing real-life heroine LeAnn Volesky in the 8-episode tale of war, bravery, sacrifice and the true meaning of family.
Is it important to you that people know this isn't a pro- or anti-war story, but a revelation of the very best of human nature when ordinary people rise to extraordinary circumstance?
This is a universal story. It is not in any way partisan. It is a universal story of war and bonding and family and how we all cope and how we all face challenges. The greatest challenges you can ever face.
The Long Road Home series premiere, Tuesday, Nov. 7, 9/8c on National Geographic