My TV Obsessions: 'Psych: The Movie's James Roday and Dulé Hill Reveal Their Favorite Festive Flicks
Psych: The Movie stars James Roday and Dulé Hill tell all about their Christmas traditions.
My Current Favorite Show:
Dulé Hill: Stranger Things. I need to know what happens next. Unfortunately, the place I'm staying while I'm working on this new musical "Lights Out: Nat King Cole" here in Pennsylvania doesn't have good internet service. Which means, I have not yet been able to stream the second season!!! Aaaaaaaaah!!! #DamnYouInternetService
James Roday: Twin Peaks is my favorite show of all time. The new Peaks is a slow burn but I'm enjoying it and taking my time. There aren't many dots to connect so I just pop one on whenever I have an hour to kill and mind meat to spare.
My Guilty-Pleasure Show:
Hill: I don't know if it's my guilty pleasure or if I just find pleasure in watching the audacity of the guilty but I can binge watch some American Greed. It amazes me what people try to get away with.
Roday: I'll binge the blind auditions on the Voice. I'm a sucker for the blind part. WWE Raw. That's the kid in me not wanting to grow up.
The Funniest Person On TV:
Hill: Ellie Kemper. She's Unbreakable…duh!
Roday: The work Sam Richardson has done as Splett on Veep is inspired, and everyone should know this dude.
The Show I Miss the Most:
Hill: Miss Match? First Years? Ryan Caulfield: Year One? Nah, I think it's that other show with James Roday. Psych! C'mon son! I love the cast and I love the PsychOs!
Roday: Sports Night. I just loved that collection of voices. Everyone was cast perfectly and experiencing Sorkin for the first time is like seeing a Mamet play for the first time. Or Christopher Walken in the Deer Hunter. It just feels essential. Plus, ssssssssssports!
What I watch Christmas morning:
Hill: Nothing. I wait for basketball in the afternoon!
Roday: My dog Franc opening his gifts. It's impressive because he doesn't have opposable thumbs.
The festive flick I watch every year:
Hill: A Christmas Story
[below]. It came out 34 years ago and still holds up.
Roday: The Texas Chainsaw Massacre.
The TV Family I'd like to knock back eggnog with:
Hill: The Johnsons from black-ish. You know that there is going to be a lot of craziness and laughs in that household over the holidays.
Roday: I'll go with The Munsters. It'd be fun to get blitzed with Herman and Grandpa.
Which of you would be the Heat Miser and which the Snow Miser?
Hill: Well, this is easy. I'm the Heat Miser and Roday is the Snow Miser. Have you ever visited our trailers? I mean, why would anyone keep their room that cold? Why? Whyyyyyy? You know what? Suck it Roday. Roday: Dulé is the Heat Miser. I'm undoubtedly the Snow Miser. That's why it works.
My favorite Seasonal treat:
Hill: My Aunt Ven's Jamaican Black Cake. It has rum, it has raisins and it is delicious!
Roday: It's a dessert called Green Goop. It's pistachio-driven, and you just don't see that a lot.
My must-watch holiday special:
Hill: The Macy's Thanksgiving Day Parade. I started in the theater and I love seeing Broadway's finest sing and dance on the streets of New York City when I know they are freezing.
Roday: This year it's Psych: The Movie. [Creator] Steve Franks would be pretty bummed out if I said anything else.
Psych: The Movie premieres Thursday, December 7, 8/7c, USA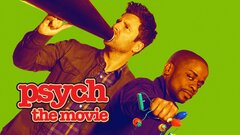 Powered by