'DC's Legends of Tomorrow' Has 'The Most Dysfuntional Family You Could Imagine' Says Arthur Darvill
DC's Legends of Tomorrow lived up to its name with a legendarily huge appearance at the Television Critics Association press tour in Pasadena. During today's CW session, a whopping 16-member panel of the Arrow–Flash spinoff—including the entire cast and six executive producers—took the stage to talk about its inception, time travel and what the future may hold for the heroes.
Citing a call from network prez Mark Pedowitz and their mutual desire to find more real estate to serve the characters previously established on their other superhero shows, executive producer Greg Berlanti assured the room that, despite its lineage, Legends does not mean The Flash and Arrow are required viewing to enjoy the ride. "They're a band of time-traveling rogues, so it's harder for Arrow and The Flash to be connected to it throughout the season… but [knowing] the history of those shows should make this one more fun."
RELATED: More Scoop From the Television Critics Association
And speaking of fun, it's pretty clear that Legends is lighter than both of its forebears, thanks in part to team leader Rip Hunter (Arthur Darvill), who corrals a team of heroes and villains in the pilot to battle Vandal Savage (Casper Crump), a maniac destroying the world in the future. "Rip does have a sense of humor," said Darvill, adding that much of the comedy comes from tensions among his colleagues-at-arms and their often failed attempts to bring down Savage. "When it starts to fall apart, it's really frustrating," he laughed. "[Rip] didn't pick these people because he likes them."
"There is a domestic dramedy aspect to the show," continued executive producer Phil Klemmer of the lineup, which includes rageaholic badass White Canary (Caity Lotz), distemperate baddies Captain Cold (Wentworth Miller) and Heat Wave (Dominic Cooper), nuclear-powered duo Firestorm (Victor Garber and Franz Drameh), tech nerd The Atom (Brandon Routh) and bickering immortals Hawkman and Hawkgirl (Falk Hentschel and Ciara Renee). "Rip is having to share his time-traveling spaceship with this [crew] of knuckleheads…it's the most dysfunctional family you could imagine."
The producers also explained that Legends' time-traveling rules will be established as the show progresses and that there will be "real consequences" instead of convenient reset buttons to undo plot twists. That means if someone dies, they die. So does that also mean a revolving door of new heroes and villains? Berlanti confirmed that we "could see a different [cast] panel in a few years," while fellow EP Andrew Kreisberg made sure to state that, for right now, the cast doesn't need to worry about Tomorrow.
"This is our secret wish list," he said at the panel's close. "This is our dream cast."
DC's Legends of Tomorrow premieres Thursday, January 21st at 8/7c on The CW.
[jwplatform OnRfZyhZ]
Video: The Legends of Tomorrow Cast Get Ready to Time Travel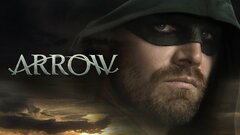 Arrow
where to stream