DC's Legends of Tomorrow: Misfit "Avengers" Time Traveling to Stop an Immortal Villain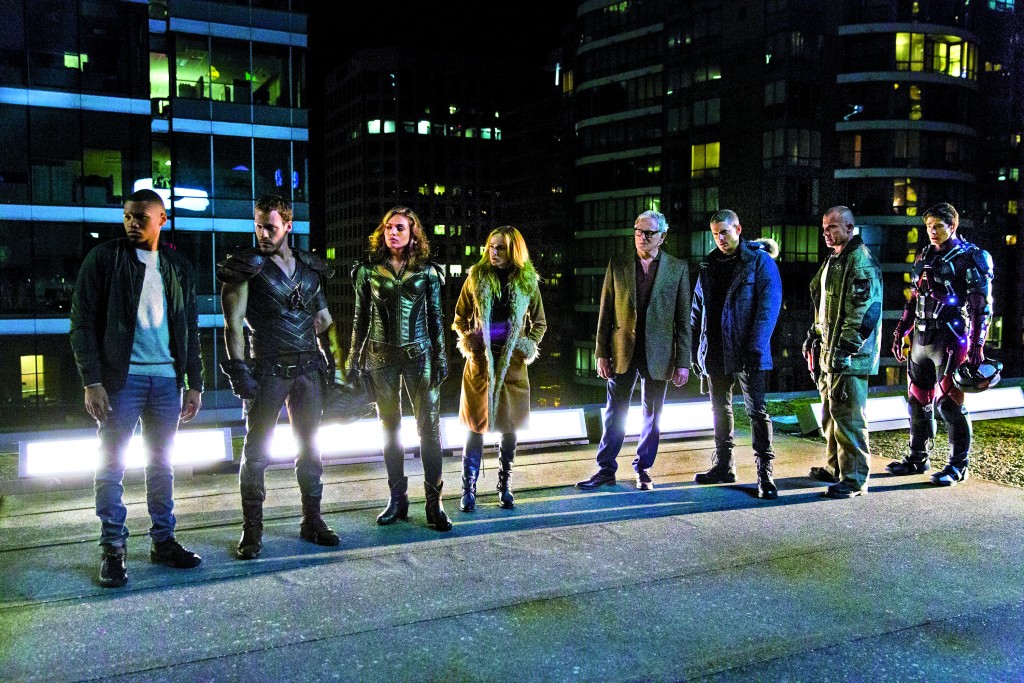 Jeff Weddell/The CW -- © 2015 The CW Network, LLC. All Rights Reserved.
DC's Legends of Tomorrow -- "Pilot, Part 1" -- Image LGN101d_0406b -- Pictured (L-R): Franz Drameh as Jefferson "Jax" Jackson, Falk Hentschel as Carter Hall/Hawkman, Ciara Renee as Kendra Saunders/Hawkgirl, Caity Lotz as Sara Lance, Victor Garber as Professor Martin Stein, Wentworth Miller as Leonard Snart/Captain Cold, Dominic Purcell as Mick Rory/Heat Wave and Brandon Routh as Ray Palmer/Atom
Step aside, Avengers. There's a new superteam assembling, and it's borrowed some of the moves from your comic book-inspired playbook.
RELATED: More New Shows Premiering in Winter
"When we pitched the series, we were very upfront about wanting to do an Avengers for television," admits executive producer Marc Guggenheim of this spin-off from Arrow and The Flash. DC's Legends of Tomorrow unites heroes and rogues from both shows—Ray Palmer/the Atom (Brandon Routh); Sara Lance/White Canary (Caity Lotz); Kendra Saunders/Hawkgirl (Ciara Renée); Carter Hall/Hawkman (Falk Hentschel); the new Firestorm duo of Dr. Martin Stein (Victor Garber) and Jax Jackson (Franz Drameh); Mick Rory/Heat Wave (Dominic Purcell); and Leonard Snart/Captain Cold (Wentworth Miller). "We want to do what those movies did: take all of our characters and put them in one big story," Guggenheim says. He then laughs and adds that the humor-heavy end product wound up "a lot more like Guardians of the Galaxy."
This motley crew is brought together by time-traveling rogue Rip Hunter (Arthur Darvill) to battle immortal killer Vandal Savage (Casper Crump, introduced in December's Flash-Arrow crossover).
RELATED: (Video) The Legends of Tomorrow Cast on Time Travel
"Vandal Savage has taken over the world in the future," Guggenheim explains. Hunter has seen the horror that awaits mankind unless they "travel through time and stop Vandal's rise to power." So why a squad of DC Comics misfits? "They're all at a spiritual crossroads in their lives and that is purportedly why Rip chooses them," executive producer Phil Klemmer says. "We find he has an ulterior motive."
Legends features the same emotional tone that we have come to expect in the Arrowverse."Some of our most fun scenes are just putting all eight of them together and letting them snark and snipe and insult each other," Klemmer says. "They're like a dysfunctional family at Thanksgiving."
DC's Legends of Tomorrow, Premieres Thursday, Jan. 21, 8/7c, The CW