What's On: Showtime's 'SMILF,' more Margaret Atwood on Netflix with 'Alias Grace,' Larry David returns to 'SNL'
A critical checklist of notable weekend programming:
SMILF (Sunday, 10/9c, Showtime): It's a bit ironic that the raunchy and oh-so-real misadventures of South Boston's scrappy Bridgette Bird (Frankie Shaw) are unfolding on a premium channel Bridgette would never be able to afford. But where better to capture the graphic authenticity of star-creator Shaw's vision than the network of Shameless, which shares SMILF's mordant sense of urban survivor humor. (If you have to ask what the show's profane title stands for, you shouldn't be watching.) With piercing eyes that can see through a world of bull, Shaw brings emotional grit and resilience to her semiautobiographical character, a struggling single mom who can't pay her rent, or even bus fare. Sharp-witted and edgy, desperately desiring respect or, failing that, sex, Bridgette knows she deserves better, but how to get it is the problem. The fine supporting cast includes Rosie O'Donnell as her blunt-depressing mom and Connie Britton as her wealthy employer, who's no less insecure than Bridgette in her own more privileged world. In SMILF, no one has it all.
Speaking of Shameless, it's back for its eighth season (Sunday, 9/8c), with Frank (William H. Macy) determined to straighten up and become a contributing member of society. We'll see how long that lasts.
Alias Grace (Friday, Netflix): The Margaret Atwood renaissance continues on TV, but pity any show following in the formidable footprint of Hulu's Emmy-winning triumph The Handmaid's Tale. The six-episode Grace, also adapted from an Atwood novel about the bleak life of an oppressed woman, is a drab Dickensian "Housemaid's Tale" based on the real-life scandal of an Irish immigrant (Sarah Gadon) who in 1843 Canada is convicted of helping murder her superiors (a silver-haired Paul Gross and a simpering Anna Paquin in underdeveloped roles). When a doctor (bland Edward Holcroft) interviews her years later to discern the truth about Grace, the mystery deepens. Gadon is alluringly enigmatic as we wonder if she's pulling one over on the smitten doc, but the overall effect of Alias Grace is less than hypnotizing.
The Exorcist (Friday, 9/8c, Fox): The shocks and surprises just keep coming when it's time for the demon to make itself known in an exceedingly creepy episode of the underrated supernatural thriller. Maybe this isn't the best time for foster dad Andy (John Cho) to take his young and impressionable charges on a camping trip, but what unfolds will make an awfully good campfire story for anyone who survives the season.
Saturday Night Live (Saturday, 11:30/10:30c, NBC): There's double the enthusiasm to be curbed this weekend as Larry David returns to host the late-night comedy show, which earned him an Emmy nomination last year (including for his uncanny Bernie Sanders impersonation). In Sunday's new episode of HBO's Curb Your Enthusiasm (10/9c), Larry conceives what sounds like a new way of getting out of relationships: "The Accidental Text on Purpose."
Inside Weekend TV: Cable's nostalgic Decades channel takes us back to a time before the uproar over "fake news" with Eye on the World: The Rise of Walter Cronkite and the Evening News (Friday, 8/7c). … Kevin Kline's Tony-winning triumph as an egotistical actor in a Noel Coward classic gets a Great Performances spotlight in Present Laughter (Friday, 9/8c, PBS, check local listings at pbs.org). Kate Burton and Cobie Smulders co-star. … CBS's 60 Minutes (Sunday, 7:30/6:30c, 7 PT) profiles a 12-year old British music prodigy, Alma Deutscher, who some are comparing to Mozart. … It's high drama indeed on PBS's Masterpiece current season of Poldark (Sunday, 9/8c, check local listings at pbs.org), when Aunt Agatha (Caroline Blakiston) crosses swords with that awful George Warleggan (Jack Farthing). … The erotic Starz anthology The Girlfriend Experience (Sunday, 9/8c) returns with two parallel stories: one set in Washington, D.C. and the other involving an escort in Witness Protection, starting over in New Mexico.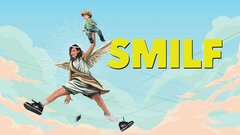 SMILF
where to stream
Powered by