What Makes Rob Lowe So Ageless? 'The Grinder's Mary Elizabeth Ellis Takes a Guess
This Deb is no downer. As the matriarch of the Sanderson family on The Grinder, Mary Elizabeth Ellis (It's Always Sunny in Philadelphia) finds herself playing the voice of reason, whether it's dealing with her high-strung attorney husband, Stewart (Fred Savage), or her egotistical former actor brother-in-law, Dean (Rob Lowe). The actress gives us a little testimony on her role.
In a show full of characters with over-the-top personalities, what did you think of Deb when you first read the script?
It spun me out a little bit. I'm used to being the person who comes in as a crazy ex-girlfriend and throws cinder blocks through a car windshield or is scream-crying while also laughing. I play crazy people a lot, so it's nice for me to be grounded.
What's it like having Fred as your TV husband?
He had directed a bunch of Sunny episodes, so I had a pretty good relationship with him and we felt comfortable to play around a lot. We just laugh at each other while we're acting, which is kind of terrible.
Have you discovered the secret to Rob's agelessness yet?
I have bought every man in my life [Lowe's grooming product] Profile 4 Men just to make sure that if there's something in there that he has hidden, it will be given to everyone else. [Laughs] When we first started this show, I would just stare at him in wonder. But he is also so funny, sweet and has this little-boy thing about him.
RELATED: (Photos) Rob Lowe Strips Down for The Grinder
Have you ever been on a cheesy procedural like The Grinder's show within a show?
One of the first jobs I booked was an episode of Without a Trace. I was the poor girlfriend of the guy who ends up being the kidnapper, but I have a heart of gold and I try to save the little boy.
Do we ever get to see Deb in a Grinder flashback?
There may be a flashback where we go visit with Dean in Hollywood.
But will we hear Deb say, "Let's grind"?
Maybe [laughs]…only in our dreams.
The Grinder, Tuesday, Jan. 19 9:30/8:30c, Fox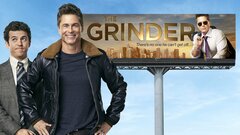 Powered by