First Look: Rob Lowe Strips Down for 'The Grinder' (PHOTOS)
Life's a beach for Dean Sanderson (Rob Lowe)!
In the January 19 episode of Fox's The Grinder, the clip from Dean's legal procedural finds his character, Mitch Grinder, on the shores of Nicaragua. After Mitch is betrayed by his mentor, Gordon Stutz (Richard Schiff, below eft), the two attorneys face off in a remote fishing village (Mitch also found time to fit in some yoga).
RELATED: Maya Rudolph Will Also Guest Star on The Grinder
"A gun is pulled, a fish is thrown, but who will prevail?" asks Lowe, who was excited to share the screen again with his West Wing costar. "We've been to the mountaintop together and in the trenches. It was a fun change to reunite for an out-and-out comedy."
See more photos from the upcoming episode below.
The Grinder, Tuesday, Jan. 19, 9:30/8:30c, Fox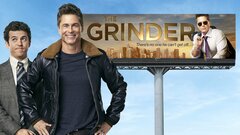 Powered by