'The Grinder': Is Victory In the Cards for Dean? (VIDEO)
Former television actor turned lawyer Dean Sanderson (Rob Lowe) is taking his cues from brother Stewart (Fred Savage) in Tuesday's season finale of The Grinder.
RELATED: The Grinder First Look: Jenna Fischer and Chris Klein Flash Back to Dean's Past (PHOTO)
With their father Dean Sr.'s (William Devane) malpractice trial in full swing, Stewart is unexpectedly sidelined from the action, leaving Dean and the rest of the firm to argue the case themselves. In the exclusive clip below, Stewart insists Dean use his handwritten note cards in the courtroom, and Dean is offended that his brother would think the man who once portrayed the legendary television lawyer Mitch Grinder would need to rely on cue cards during such an important event.
RELATED: First Look: Rob Lowe Strips Down for The Grinder (PHOTOS)
As the Sandersons fight for their father's innocence, The Grinder finds itself fighting for its own life. Tonight's season finale could mean case closed for the freshman comedy, but there is still a chance it could grind its way to a second season.
The Grinder, Season Finale, Tuesday, May 10, 9:30/8:30c. Fox.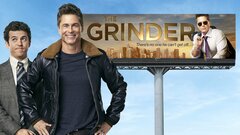 Powered by