Ask Matt: 'Will & Grace' Forever? 'Secretary' Loses Its Chief, 'Middle' Separation Anxiety, 'Chicago P.D.'
Welcome to the Q&A with TV critic (also known to some TV fans as their "TV therapist") Matt Roush, who'll try to address whatever you love, loathe, are confused or frustrated or thrilled by in today's vast TV landscape. One caution: This is a spoiler-free zone, so we won't be addressing upcoming storylines here unless it's already common knowledge. Please send your questions and comments to [email protected] (or use the form at the end of the column) and follow me on Twitter @TVGMMattRoush. Look for Ask Matt columns on most Tuesdays and Fridays.
Could Will & Grace Go for Multiple Seasons?
Question: I'm really enjoying the Will & Grace revival. For me, it's gone from strength to strength: last week's "Grandpa Jack" episode was amazing TV. I've read that the series has been asked to return for a 12-episode season next year. Any plans beyond that? — Thomas
Matt Roush: Let's just take it one year at a time, OK? NBC's renewal of the show for a second season, before the comeback even began airing, was almost unprecedented. If the quality holds up, and all involved want to keep going, I don't see why they'd need to stop after two batches of episodes. On the other hand, there is a certain shall-we-say grace in knowing when not to overstay one's welcome, so let's resume this conversation a year from now. That said, couldn't agree more about "Grandpa Jack." Truly hilarious, with terrific guest-star casting. That and the Ben Platt episodes felt like instant classics, and that's a pretty good track record for such a young season.
Is Laughter the Best Medicine?
Question: Why the loud, continuous, obnoxious laugh track on Will & Grace? Insults my "funny-bone!" I will laugh if it's funny. Will NOT watch as long as the show contains a "laugh track?" – Richard
Matt Roush: Your loss. I am frequently amazed at the amnesia of viewers who seem never to have witnessed a TV comedy filmed in front of a live, and laughing, TV audience. This form of sitcom has been around as long as TV, and often accounts for the medium's most popular shows, from I Love Lucy through Everybody Loves Raymond to The Big Bang Theory. And while the audience laughter is almost certainly sweetened and heightened in the final mix, it's not a "laugh track"—which, when applied to filmed single-camera sitcoms, can be truly jarring. As for the laugh quota in Will & Grace: I was watching an advance screener of the "Grandpa Jack" episode at home, with earphones on—and, I readily admit, sitting in the "pajama party position" on my sofa—and my laughter in an otherwise quiet space was so noticeable it brought my own significant other into the room to wonder what I was laughing at. Imagine that amplified in an audience full of people.
---
Can Secretary Survive Without Nadine?
Question: Madam Secretary is not must-see television, but I watch it because Téa Leoni is so appealing and it is fairly reliable. But Bebe Neuwirth is unquestionably the best thing about her staff. As admirable as some of the staff may have been in other roles (on Broadway, House of Cards), Neuwirth is the best thing about the staff scenes and she holds them together. In the most recent episode, it appeared that she was leaving. Say it ain't so! Her departure would be a body blow to the show. — Rebecca
Question Is Nadine (Bebe Neuwirth) really leaving Madam Secretary for good?! The show won't be the same without her. Also, will Jason and Alison appear in more episodes this season? I enjoy the McCord family storylines sometimes more than the political ones. — Aviva
Matt Roush: Yet another surprise departure from a CBS show (first Amy Carlson from Blue Bloods, then Pauley Perrette leaving NCIS after this season, now Bebe Neuwirth), which according to Twitter was again the actress's choice. (She tweeted, after Sunday's broadcast, "So grateful to CBS for accepting my request to depart Madam Secretary and writing a beautiful exit for me.") At least they didn't kill her off. That has to be seen as a plus. But yes, this will leave quite a void on the show, especially in the staff scenes. Bebe Neuwirth projected an authority and also a wry humor that elevated what could have been a stock character, and her chemistry with the boss was most enjoyable. But I can also see why a limited supporting role that that could be confining after several years. So cheers to Bebe and hope to see her back on Broadway or thereabouts soon.
Regarding Elizabeth's kids (Kathrine Herzer as Alison, Evan Roe as Jason), they're both still listed as series regulars, and though Alison is away at college, she's still checking in via the Internet and I imagine we'll still see them whenever there's a break for more domestic affairs, which I agree are some of the best parts of the show.
---
Much Love for The Middle in Its Farewell Year
Question: I am so upset that The Middle is in its final year. I have loved it since its beginning and am frustrated that it has never received the praise and love it deserves. I feel emotional just thinking of the last show. Is there any feedback from the cast that you can share in regard to the cancellation? I sent several e-mails to Ellen DeGeneres asking her to have the cast members on her show. She has had the cast of just about every comedy on her show, but never The Middle. All I can think of is that there may be some life choices that the show and Ellen don't agree on. Also, I would like to e-mail the writers and am wondering if you can provide an e-mail address where I may reach them. Thanks so much. — Beth
Matt Roush: At the summer Television Critics Association press tour, ABC presented a farewell panel for the cast and crew of The Middle upon announcing its final season, which was a collaborative decision between the network and the show's creators and cast. It was a very upbeat and touching session, and while you could sense the reluctance of some on the panel to leave this show and characters behind, there tends to be a sense of commensurate pride about a job so well done and knowing they're going out strong, which is not easy for a family comedy to accomplish when the kids have mostly grown.
Can't really comment on the Ellen situation, but given that both are produced by the same studio (Warner Bros.), it's hard to imagine The Middle not getting some sort of sendoff. There's still plenty of time. (I would be disappointed to think this would have anything to do with Patricia Heaton's conservative politics, but I'm not in a position to speculate.) I can't give out e-mails or addresses more than what's available publicly, but you can write to the show the old-fashioned way by addressing your thoughts via Warner Bros. TV, 4000 Warner Blvd., Burbank CA 91522.
Read on for another Middle love letter:
Question: There are many, many things to love about The Middle, but one of the things I love most is its realistic portrayal of a lower- to middle-class family. It is part of the comedy, but not in a way that is making fun or pitying the Hecks. I've always loved how their house and the things in it accurately reflect a lower/middle-class family, when in most shows people say they struggle financially but have amazing homes, cars and clothes. As someone from a family that is similar to the Hecks in many ways, I appreciate and find comfort in this. I found this past week's episode particularly poignant as Mike struggled with jealousy of Lexi's parents' wealth. I equally loved Sue's reaction after Mike gives her $5. I am going to miss everything about The Middle, but having a show that relates so well to everyday financial struggles is one of the things I will miss most. That and the wonderful Hecks themselves. — Amy
Matt Roush: These articulate my thoughts about The Middle so beautifully, and I had the same reaction to last week's episode. The more Sue jumped around in glee at being given a whole $5, the more Mike cringed in embarrassment at his gesture backfiring so publicly. Classic The Middle. And did you catch Mike's line at the end, as he confessed his own wish list of pipe dreams: "I want dividends from Disney stock." Well played, you ABC comedy, you. As I've said many times, I've always felt a special connection to this show, having come from small-town Indiana, where (quoting Frankie) "it does take a lot of love to be happy in a mud hole." They had me way back when at the first mention of the Frugal Hoosier food store. Been there, shopped that.
---
Another Departure, Another Show
Question: Why did Lindsay (Sophia Bush) in Chicago P.D. leave? Is her character coming back? I miss her. — E. Shigeta
Matt Roush: Once again, gone by the actor's own choice. As she recently explained on Instagram, Sophia Bush left to pursue a production deal. And from the tone of her post, it sounds like she's taken quite a bit of heat from fans over her choice. Which if so is inexcusable behavior. It's her career, no one else's, and who's to say the next role she develops won't be even better than the one she left behind.

---
Pants on Fire, Part 2
Question: A small blip inside your magazine alerted me to Liar on SundanceTV. What a fabulously twisted show! My friend in England said it is so popular there they are doing a prequel. Have you heard if it will be continued here? — Jean
Matt Roush: If by "small blip" you meant my own mini-review of the six-part series, I'll try not to take offense. But yes, Liar is one outrageous psychosexual melodrama, and with two episodes yet to air before it's over, there's time to catch up online or On Demand. Liar has been renewed, but my understanding is that it will be a sequel—when you get to the end, you'll understand the set-up—as I'm not sure what a prequel would accomplish, given these characters and where they're heading. SundanceTV hasn't officially announced whether it will pick up the second season, but it would be rare for this not to happen when the import already has a green light. So I wouldn't worry.
---
And Finally …
Question: When life has me down, I'm going to remember that "administrator for the Longmire Posse Official Fan Site" is a thing, and smile. Thanks to Pamela for the smile and information! Counting the days until Nov. 17. — Kirsten
Matt Roush: Which, officially, is the long-awaited premiere date for the sixth and final season of Longmire on Netflix. In case you missed the news when it was first announced.
That's all for now, and we'll pick up the conversation again soon. Thanks as always for reading, and remember that I can't do this without your participation, so please keep sending questions and comments about TV to [email protected] or shoot me a line on Twitter (@TVGMMattRoush), and you can also submit questions via the handy form below.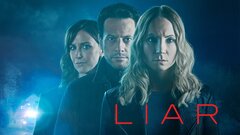 Liar
where to stream