'Liar' Preview: Could a Man From Laura's Past Mean Trouble? (VIDEO)
Here is the truth: If you're not watching SundanceTV's atmospheric mystery thriller Liar, you're seriously missing out. The good news is that there's plenty of time to catch up, which you can do for free on the SundanceTV web site.
The obsession-worthy event series stars Downton Abbey's luminous Joanne Froggatt as newly single teacher Laura Nielson who is adamant that she was drugged and raped by handsome widower Andrew Earlham (Forever's Ioan Gruffudd) at the end of their first date. Complicating matters: He's both a well-respected surgeon and dad to one of Laura's favorite students, Luke (Jamie Flatters).
Plus, he swears the formerly sunny schoolteacher is off her rocker and that all was well when he headed for home.
Over six episodes, the twisty psychological drama reveals both what really happened that evening and just how precarious the truth — any truth — can be, as connecting threads and devastating falsehoods within the pair's inner circles are laid bare.
Still need to catch up?
Stop reading right now.
If, like us, you're already addicted, tonight's episode 3 brings a trio of new complications for Laura. Her ex-beau Tom (Luther's Warren Brown)—a local cop who's shagging Laura's married sister Katy (Zoë Tapper)—threatens the good doctor and quickly learns his own secrets aren't so secret. Especially since Katy also happens to be Andrew's anesthetist (we told you this was juicy!) and Andrew is, well, observant.
Check out a sneak peek in our exclusive video below:
But the altercation may be the least of Laura's mounting problems.
Unbeknownst to her, a loose-lipped fellow from her past pays a visit to Andrew, even as she realizes she needs Andrew's help when Luke and his girl find themselves in a very grown-up jam.
Liar, Wednesdays, 10/9c, SundanceTV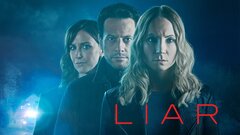 Liar
where to stream
Powered by