What's On: 'Liar' 'SEAL Team' Premieres, 'Survivor' and 'Designated Survivor' Return
A critical checklist of notable Wednesday TV:
Liar (10/9c, SundanceTV): Sparks fly, then explode into sinister fireworks, when two TV fan favorites go on a dinner date: Downton Abbey's Joanne Froggatt as Laura, a newly single teacher, and Forever heartthrob Ioan Gruffudd as Andrew, a student's dad who happens to be a handsome, widowed surgeon. A match made in heaven? More like hell, when Laura awakens distraught and hysterical, convinced she has been raped, though lacking any evidence. Andrew is shocked, then outraged, when her seemingly preposterous accusation goes viral on social media. The taut, six-part Liar, from the diabolical minds of brothers Harry and Jack Williams (The Missing), shifts perspectives in its gripping psychosexual intrigue, making it hard to know who to believe until the twists escalate into a feverish pitch of outrageous melodrama, making Fatal Attraction look mellow. Already renewed for a second season.
Mr. Mercedes (8/7c, AT&T Audience Network): Reeling from tragedy, Bill Hodges (Brendan Gleeson) is convinced he's a danger to all he knows and loves, which means pushing away the likes of loyal sidekick Holly (Justine Lupe) and neighborly Ida (Holland Taylor). As Bill finally gets the police to take his suspicions seriously, his nemesis Brady (Harry Treadaway) confronts one of the grislier twists Stephen King ever cooked up.
The Vietnam War (8/7, PBS, check local listings at pbs.org): How timely is the title of the penultimate chapter of Ken Burns' and Lynn Novick's masterful and sorrowful documentary: "A Disrespectful Loyalty," a phrase used to describe the anti-war activism of disenchanted veterans back from the conflict, throwing their medals at the U.S. Capitol in a public display of defiance over government policy. "I wasn't helping anyone by keeping my mouth shut," recalls John Musgrave, a Marine who's among the series' most anguished and effective commentators. "I conducted myself as a Marine," he insists. Covering the period from May 1970-March 1973, including President Nixon's successful re-election campaign (and hinting at the Watergate scandal to come), the episode profiles a nation at war with itself while conducting bombing campaigns described by a North Vietnamese as a "meat grinder."
SEAL Team (9/8c, CBS): For a more simplistic look at modern warfare, this generic new military drama stars Bones' David Boreanaz as Jason Hayes, the team leader of an elite SEAL ops unit that is almost indistinguishable from the crew of NBC's The Brave earlier this week. (The storyline isn't even all that different.) Like CBS's earlier (and better) drama The Unit, the series splits its focus between the overseas missions and the homefront, where Jason's dangerous vocation has estranged him from his family.
Law & Order: Special Victims Unit (9/8, NBC): Entering its 19th season, rivaling the longevity of the still-unsurpassed mothership, SVU initiates an international tug of war when Fin (Ice T) travels to Cuba to bring a serial rapist (Will Chase) to justice. While opposing sides go to legal battle over his methods, Benson (Mariska Hargitay) has her own headache involving charges that she might not be a fit parent. Them's fighting words.
Designated Survivor (10/9c, ABC): Jumping forward to accidental President Kirkman's (Kiefer Sutherland) one-year anniversary in a White House under siege, the political drama's second season finds the show still wrestling with an identity crisis. Is it a painfully earnest and preachy West Wing wannabe about an idealistic leader, or a muddled conspiracy thriller? The season opener uneasily straddles both worlds, as Kirkman negotiates a hostage crisis while FBI agent Hannah Wells (Maggie Q) chases the homegrown terrorist responsible for the Capitol bombing to Amsterdam. One bright spot: the casting of new regular Paolo Costanzo (Royal Pains) as a quirky new political director who rubs everyone the wrong way for the right reasons.
Inside Wednesday TV: CBS's enduring Survivor (8/7c) is back for its 35th round of competition, stranding 18 players in Fiji with a "Heroes v. Healers v. Hustlers" high concept. The premiere introduces a new twist to the "super idol" gimmick. … ABC's Speechless (8:30/7:30c) returns for a second season, with Maya (Minnie Driver) deciding the family needs to get its act together and stop using JJ's (Micah Fowler) disability as a cover for their shortcomings. Let's see how long that lasts. … In a crossover mash-up, Fox's Empire (8/7c) welcomes Star's marquee player Queen Latifah in the fourth-season opener, while Empire's Jussie Smollett offers counsel to the aspiring performers of Star (9/8c) in that musical series' second-season opener. … TV's obsession with baking continues as Food Network seeks the Best Baker in America (10/9c), with Food Network Star winner Jason Smith teaming with Marcela Valladolid to judge the creations of eight contestants. … With Gretchen (Aya Cash) back in the house, things aren't calming down on FXX's You're the Worst (10/9c), especially after she ruins Jimmy's (Chris Geere) interview for his book. And yet somehow Edgar (Desmin Borges) and Lindsay (Kether Donohue) still harbor hopes of reuniting the combative couple.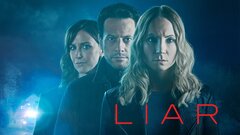 Liar
where to stream
Powered by